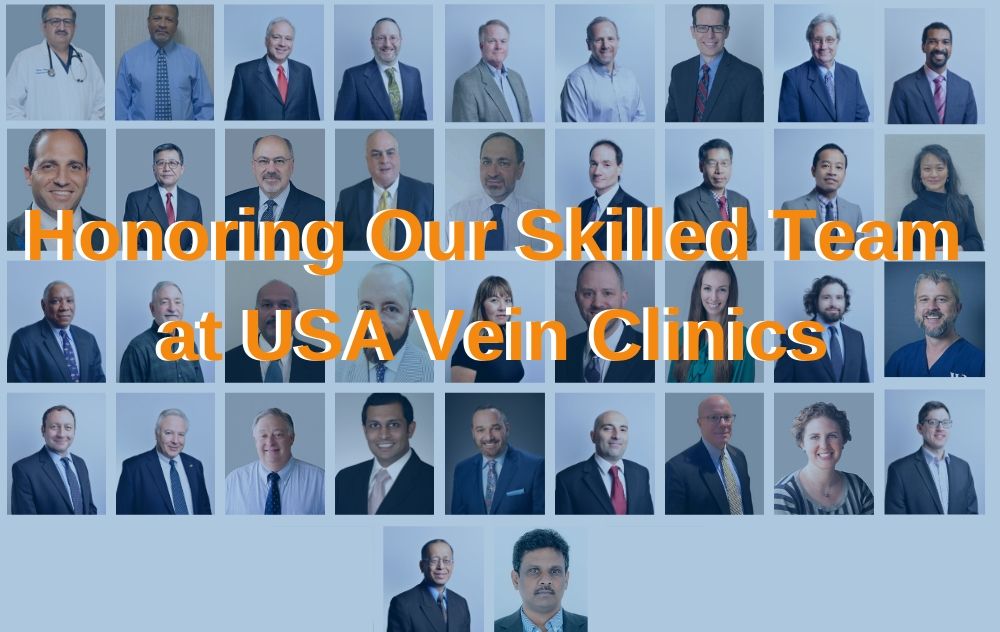 Monday, March 30th, 2020
To celebrate National Doctor's Day, we are honoring our team of highly-skilled vein doctors who impact, improve, and yes, save lives. Our Doctors are the face of our centers and we couldn't be more honored to have them practicing with us.
We are truly grateful for our doctors contributions to providing quality vein care. We want to recognize their dedication to prioritizing patient care and safety above all else. Our doctors diagnose and treat vein disease in thousands of patients nationwide. They are there to support the patient from the moment they come in for an initial consult, to their final follow-up visit. Vein disease often causes painful symptoms, and we are so honored to have a team of people that are able to provide effective solutions for patients suffering in pain.
USA Vein Clinics Doctors
Our team of specialists has a wide variety of skills, with experience ranging across a variety of different fields. Many of our specialists are interventional radiologists, or diagnostic interventional radiologists. This means that they use minimally-invasive technology to administer the treatment procedures. There are a variety of different imaging techniques used by International  Radiologists, at USA Vein Clinics we mainly utilize ultrasound technology.
Vein Specialists vs. Primary Care Physician
If you are looking into vein disease treatment, you may be wondering if it's better to see your PCP for the procedure. Although PCPs are skilled medical professionals, their expertise usually spreads across other areas. At USA Vein Clinics, our doctors focus specifically on treating vein disease of the lower legs and ankles. Our doctors diagnose and treat hundreds of patients everyday for varicose veins, spider veins, and other vein disease symptoms. Also, our services are eligible for insurance coverage by most plans, which means your treatment could be just as affordable as your regular doctor visit.
Vein Health Awareness
Although vein disease is not a life-threatening condition, it has the ability to cause serious health complications if left untreated. Thankfully it is a common condition, which means there are a variety of different treatments to choose from. If you think you may have vein disease, or know you are at risk, give us a call at 888.768.3467 to find out how our skilled specialists can provide a solution for you.
We are so honored to have a team of compassionate individuals to not only support our patients, but to also provide us with the highest quality vein are available. Take advantage of the opportunity to be treated by one of our skilled specialists and schedule your appointment today.
If you don't have time to come in for an appointment, you can always schedule a telemedicine consult with one of our specialists. Click here to learn more.