VARICOSE VEIN TREATMENT
If you suffer from the effects of varicose veins, you may benefit from treatment. Swollen, visible veins are caused by underlying vein disease, also known as venous insufficiency. As vein disease progresses, it can lead to painful and uncomfortable symptoms, including leg swelling, cramping, and fatigue. Venous symptoms can range from mild to severe, sometimes impacting quality of life.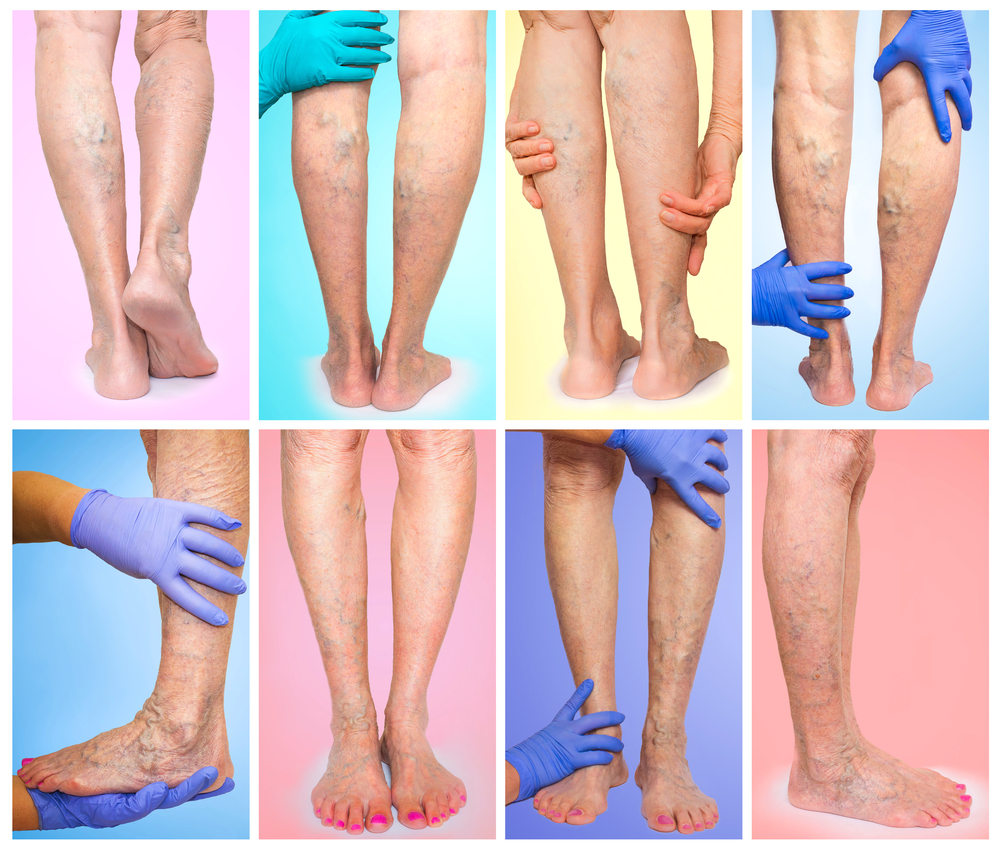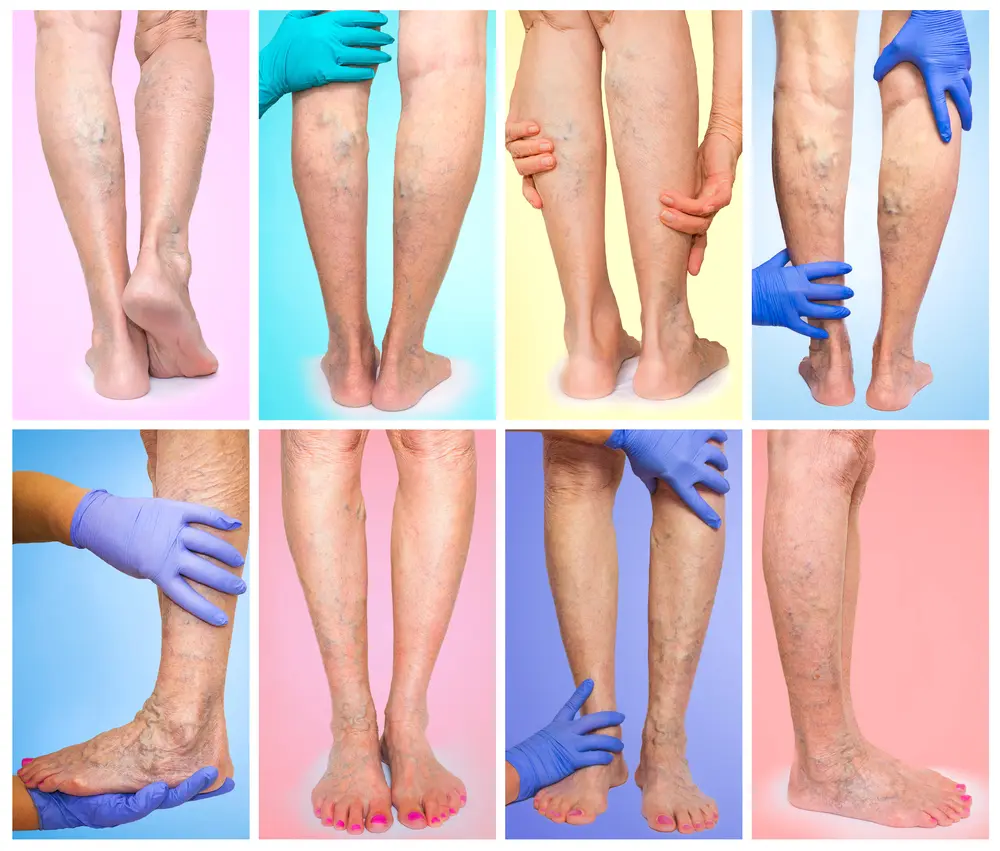 Generally more common in women and older adults, varicose veins affect 22 million women and 11 million men between the ages of 40 to 80 years. Minimally invasive, office-based varicose vein treatment can help alleviate painful symptoms and reduce the risk of developing dangerous blood clots and venous ulcers.
Sometimes, more than one type of treatment or multiple treatments may be necessary to alleviate challenging symptoms. During an initial consultation, your vein specialist can give you a better idea of what to expect.
Below, we discuss common symptoms of varicose veins, along with nonsurgical varicose vein treatment options. If you have additional questions, we recommend scheduling an appointment with one of our top vein specialists.
Common Symptoms of Varicose Veins
Although the effects of varicose veins can vary, symptoms most often involve the legs, ankles, and feet. If you have varicose veins, you may experience one or more of the following symptoms:
Swelling: Many patients with varicose veins notice swelling in the legs, ankles, or feet. Some individuals report that their shoes feel tighter or legs appear swollen.
Heaviness: Another common varicose vein symptom is heavy legs. This is often described as a sensation of having weights around the ankles.
Itching and burning: Skin changes near visible veins can sometimes be mistaken for dry skin. If your skin is itchy, discolored, or otherwise different than normal, this may be due to vein disease.
Pain relief when legs are elevated: If your leg pain or achiness subsides when you prop your legs up, this may be a sign of venous insufficiency. Fortunately, there are other ways to experience longer-lasting relief.
If you experience any of the above symptoms, we recommend consulting a vein specialist. They can determine exactly what is going on, along with making personalized treatment recommendations.
Treatment for Varicose Veins in Legs
It is generally a good idea to seek varicose vein treatment as soon as possible. Over time, venous symptoms can become worse and also more difficult to treat. You should also be aware that when varicose veins are left untreated, you may be at increased risk for developing dangerous health conditions like blood clots and venous ulcers (open, non-healing sores).
At USA Vein Clinics, our vein specialists offer minimally invasive, outpatient varicose vein treatment that can provide immediate relief from painful symptoms. Our procedures take less than an hour, from start to finish. Afterward, you can go home and resume most of your normal activities.
Although our non-surgical treatment methods vary, they all have a similar goal: Close off diseased veins, then reroute blood flow to healthy, surrounding ones. Your varicose vein treatment options may include one or more of the following:
ENDOVENOUS LASER THERAPY (EVLT)
EVLT is a type of laser treatment for varicose veins. It is considered the gold-standard of varicose vein treatments. Using ultrasound guidance, a vein specialist threads a very thin laser fiber into the diseased vein. Then, laser energy is applied to close the vein off and redirect blood flow. Over time, the treated vein will be absorbed by your body.
VARITHENA VEIN TREATMENT
Varithena treatment refers to a foam treatment for varicose veins. It is used to treat vein conditions associated with the great saphenous vein (GSV) and surrounding vessels. Using ultrasound guidance, a small catheter is placed into the diseased vein. Then, varithena foam is injected through the catheter, causing the vein to collapse and seal off.
ULTRASOUND-GUIDED SCLEROTHERAPY
During Ultrasound-Guided Sclerotherapy, a vein specialist uses live ultrasound guidance to treat varicose veins located near the skin's surface. They inject a sclerosant agent directly into the diseased vein, which intentionally irritates the vein, causing it to collapse and close.
CLARIVEIN®
ClariVein®, also referred to as mechanochemical ablation, uses ultrasound guidance and a special catheter with a rotating tip at one end. This unique varicose vein treatment simultaneously applies mechanical and chemical methods to seal off diseased veins. As with other minimally invasive treatments, patients are able to immediately return to most normal activities immediately afterward.
VENASEAL™
Our VenaSeal™ closure system treats varicose veins by applying a specially-formulated medical adhesive through a small catheter into affected veins. This adhesive seals off varicose veins, allowing blood flow to be rerouted. Unlike with other nonsurgical techniques, the use of compression socks is not usually required after VenaSeal™ treatment.
Benefits of Minimally Invasive Treatment for Varicose Veins in Legs
Minimally invasive, outpatient varicose vein treatment can quickly improve your quality of life by alleviating painful symptoms, along with improving the appearance of visible veins.
Additional benefits of varicose vein treatment at USA Vein Clinics include:
Convenience: Our treatments are performed at over 100 state-of-the-art varicose vein treatment clinics, located across the country. Treatment usually takes about an hour, from start to finish, with the actual procedure lasting only 15-30 minutes. Although some patients prefer to be driven home by a friend or family member, there is no need for a lengthy recovery period or overnight hospital stay.
Affordability: Our financial experts can work directly with your health insurance plan to facilitate getting you the help you need. Varicose vein treatment is typically covered by most major insurance plans, including Medicare and Medicaid. You can quickly verify your coverage online by using our scheduling tool or giving us a call at 888.768.3467. If you do not have insurance, we are happy to help you explore other cost-conscious options.
Effectiveness: Our minimally invasive varicose vein treatments are performed by experienced vein specialists, some of whom are specially-trained interventional radiologists. As a result, we offer a high success rate, allowing our patients to quickly recover, return to normal activities, and experience a better quality of life.
For more helpful information on the many benefits of non-surgical vein treatment, consider following our blog.
What to Expect Before, During, and After Varicose Vein Treatment
We understand that the prospect of vein treatment may be intimidating. Rest assured that our empathetic vein specialists will be with you every step of the way.
Before Varicose Vein Treatment
During your initial consultation, it is important to discuss your medical history and current medications with your specialist. They may ask you to stop taking aspirin, blood thinners, or other anticoagulant medications a few days before treatment. On the day of your procedure, we recommend wearing loose-fitting, comfortable clothing to your appointment.
During Varicose Vein Treatment
Minimally invasive varicose vein treatment at USA Vein Clinics is performed in a comfortable outpatient setting. The affected area will be thoroughly cleaned and lightly numbed with local anesthesia. Then, depending on the type of treatment recommended, your doctor will insert either a catheter or a small needle into the targeted vein. You may feel a mild stinging or burning sensation as it moves through the vein. Many patients experience no discomfort at all.
After Varicose Vein Treatment
We bandage your legs to control bleeding and swelling, but keep in mind that some discharge from the treated area is normal. After leaving our varicose vein treatment clinic, you can resume most normal activities. However, you will need to avoid strenuous exercise and heavy lifting for at least a week. You should also avoid soaking in bathtubs, hot tubs, and pools for a few days following the procedure. Finally, you may be asked to wear compression stockings for a certain period of time to aid healing.
For some patients, symptomatic relief from leg pain, swelling, and other symptoms is immediate. Whether you experience relief immediately or in the days or weeks that follow, you can look forward to:
Less pain and discomfort, if any
A feeling of lighter legs
Reduced leg swelling, if any
Relief from itching and burning sensations
No need to elevate your legs throughout the day
If you have additional questions about varicose vein treatment, talk to one of our highly experienced vein specialists.
Schedule Online Now with USA Vein Clinics
At USA Vein Clinics, minimally invasive varicose vein treatment is convenient, affordable, and highly effective. We offer over 100 clinic locations nationwide, along with virtual doctor consultations. We also work closely with insurance companies to help our patients receive the medical care they need, when it is needed.
We understand that many people have delayed medical treatments due to the pandemic. We want you to know that there is no need to suffer any longer. Instead, take the first step in discovering relief from varicose vein pain and discomfort. To get started, simply make an appointment online or call 888.768.3467.