VenaSeal™ Closure System Treatment
Are you experiencing pain and discomfort due to varicose veins? We want you to know that there's no reason to suffer any longer. At USA Vein Clinics, we offer a range of treatment options that can quickly alleviate venous symptoms like leg swelling, cramping, and fatigue.
Fortunately, the days of painful vein stripping surgery are behind us. Instead, our experts use minimally-invasive, outpatient techniques to close off diseased veins and relieve unnecessary pain and discomfort.
When you are ready to take control of your vein health, you may want to consider VenaSeal™ treatment. Here's what we'd like you to know about the VenaSeal™ closure system.
What Is VenaSeal™?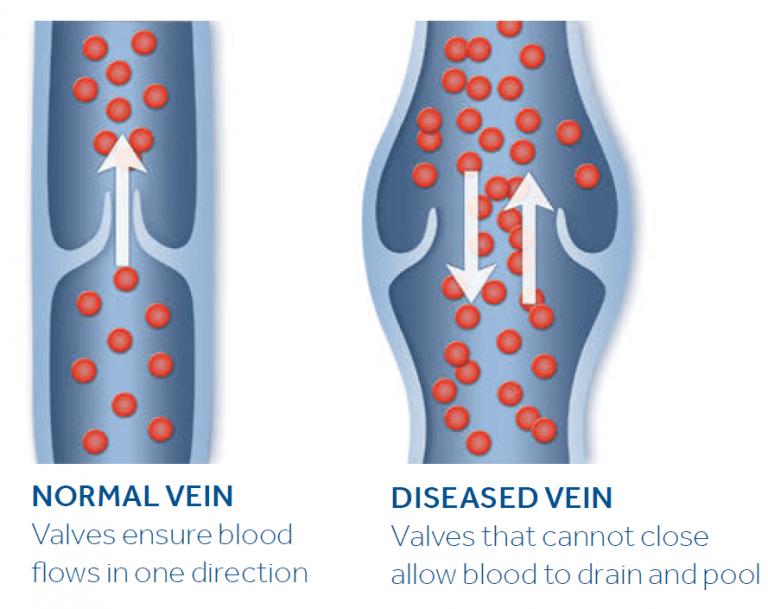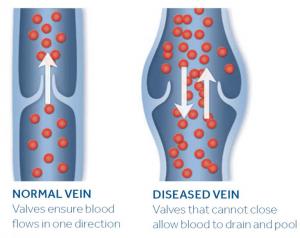 The VenaSeal™ procedure is an advanced varicose vein treatment offered by USA Vein Clinics' highly-trained vein treatment specialists. We also provide a range of other options to treat your symptomatic vein disease, or venous insufficiency. These include Endovenous Laser Treatment (EVLT), ClariVein®, Ultrasound-Guided Sclerotherapy (USGS), and Varithena treatments.
The VenaSeal™ closure system provides immediate vein closure, which allows for quick relief from painful and uncomfortable symptoms. A small amount of specially-formulated medical adhesive is delivered to the affected vein through a small catheter – the adhesive aims to seal, or close, the diseased vein. Once the affected vein is sealed off, blood flow is rerouted to nearby, healthy veins, and symptoms begin to improve.
About VenaSeal™:
VenaSeal™ is an FDA-approved, minimally-invasive vein treatment
Performed as a simple outpatient procedure
Provides a more comfortable patient experience than other methods
Does not require tumescent anesthesia (a type of numbing agent)
Uses only one needle stick
Involves little, if any, pain and bruising
Compression socks are not needed after the procedure
Allows for a rapid return to normal daily activities


VenaSeal™ Procedure: What to Expect
The minimally-invasive VenaSeal™ procedure works by treating the affected vein(s) internally. The impacted vein is accessed via a single needle stick. It is unnecessary to provide tumescent anesthetic, or local anesthesia, over a large region of the leg.
Our vein specialists use ultrasound-guidance before and during your procedure. We begin by imaging your legs and inserting a small catheter into the diseased vein. Then, VenaSeal™ medical adhesive is applied to the vein through the catheter. Next, external pressure is applied to the leg to help seal the vein. Finally, the catheter is removed, and a bandage is applied to cover the entry point.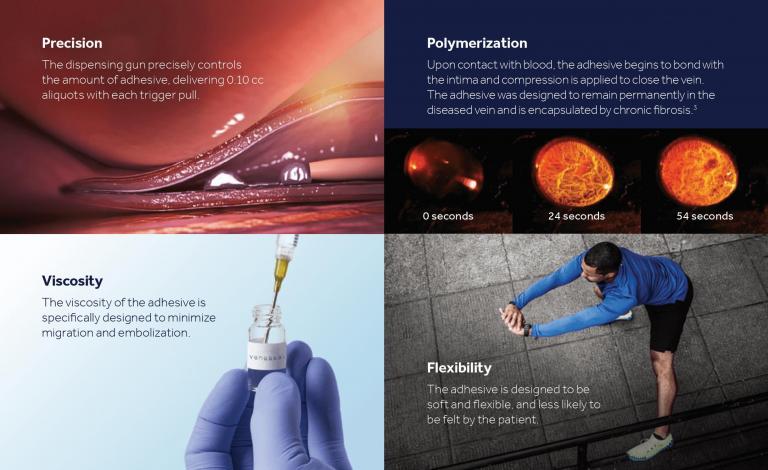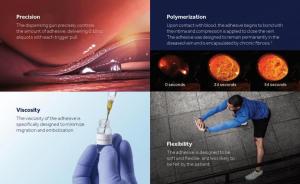 VenaSeal™ treatment takes only 15 to 30 minutes. Although you may experience some minor discomfort or pressure during the procedure, you should not experience any significant pain. Some patients describe a pulling or tugging sensation.
When it comes to VenaSeal™ aftercare, you can leave shortly after treatment and return to most normal activities. Unlike other varicose vein treatments, the use of compression socks afterward is not required.
Here are some reasons to consider VenaSeal™ to treat your varicose veins:
Simple, outpatient procedure.
Performed under local anesthesia, in-office.
Compression stockings not required following the procedure.
Resume nearly all activities, including exercise, immediately following the procedure.
Patients typically experience less pain and bruising as compared to other vein treatment options.
Is VenaSeal™ Safe?
The VenaSeal™ closure system was approved for use by the Food and Drug Administration (FDA) in 2015. In a 5-year follow-up report on long-term outcomes, VenaSeal™ was demonstrated to be safe and effective. More than 100,000 patients have been successfully treated with VenaSeal™ worldwide.
As with all medical procedures, there are some inherent risks involved. Potential VenaSeal™ risks include an allergic reaction to adhesive, swelling, bleeding, bruising, skin discoloration, scarring, and blood clots.
What Are the Benefits of VenaSeal™?
The VenaSeal™ treatment is less invasive than other vein treatments. It involves only a single needle stick and a minimal level of anesthetic. Because this method does not use heat, it tends to offer a more comfortable patient experience.
Additionally, since a VenaSeal™ procedure immediately closes your diseased veins, symptomatic relief and treatment recovery come quickly. In other words, patients generally experience little to no downtime. The catheter involved is very small, so there is little risk of bruising, scarring, or damaging nearby veins and tissues.
The vein specialists at USA Vein Clinics have received specialized training in performing the VenaSeal™ procedure. They also specialize in a range of additional, minimally-invasive outpatient vein treatments.
One of our primary goals is to make sure you feel confident when deciding on your course of treatment. When we meet one-on-one during your initial consultation, we can discuss your options in detail and make personalized recommendations.
What to Know Before Your VenaSeal™ Treatment
The price of a VenaSeal treatment for varicose veins varies depending on your personalized treatment plan, as well as your insurance plan coverage. Because treating vein disease is our specialty, USA Vein Clinics works with patients to discuss detailed pricing, and as needed, payment options that best fit your needs. Two popular options we have are CareCredit® and Flex Spend Accounts (FSA/HSA).
CareCredit® is a credit card made for out-of-pocket healthcare costs when insurance doesn't fully cover treatments.
FSA and HSA are other options that may allow for reimbursement of health-related treatments and expenses, including those for vein disorders. However, always check with your plan's administrator for options.
Our team will work with your insurance to help determine coverage and our online scheduling team offers verification of insurance to the clinic closest to you.
Please come to your initial consultation prepared to review your full medical history and current medications. Be sure to mention any previous vein treatments. To avoid potential complications, your doctor may ask you to avoid taking certain medications beforehand.
Follow these tips before your treatment appointment:
Don't shave your legs before treatment
Wear loose-fitting clothing
Don't apply lotions or moisturizers to your legs
Bring your medical insurance card and ID
What to Expect After VenaSeal™
At USA Vein Clinics, we want to ensure that our patients feel comfortable and educated before undergoing any treatment at our facilities. During your brief VenaSeal™ recovery, you may experience:
Mild discomfort
Tenderness around veins
Slight discoloration
If you have concerns about post-treatment issues, please don't hesitate to give us a call. We want to ensure that your recovery goes smoothly so that you can return to normal daily activities quickly.
VenaSeal™ Treatment at USA Vein Clinics
Our experts are available to help guide you towards improved vein health. We offer more than 168 clinic locations, conveniently spread across the United States. We also continue to expand our services with the addition of new treatments, doctors, and locations.
Book an appointment online or give us a call at 888.768.3467. You will soon discover how the VenaSeal™ closure system for varicose veins can improve your life!