What is ClariVein®?
The Clarivein® procedure is available to patients living with venous insufficiency in addition to our Endovenous Laser Treatment (EVLT), Ultrasound-Guided Sclerotherapy (USGS) and Varithena treatments.
ClariVein, also referred to as mechanochemical ablation, is a technique used in treating venous insufficiency, including varicose or spider veins, without the use of laser energy. It is a catheter-based treatment that simultaneously uses mechanical and chemical methods to treat the damaged area. What makes the ClariVein treatment unique is the fact that they use a special ClariVein catheter with a rotating tip at one end.
ClariVein is:
Clinically proven to reduce symptoms of venous insufficiency
Non-thermal (no laser used)
Low profile, which means no scarring
FDA-approved
ClariVein Procedure: What to Expect
The ClariVein procedure works by treating the affected veins internally through a very small incision that is usually made on the upper thigh area. During the procedure, your vein specialist will insert a medical catheter with a rotating fiber on its end into the vein.

Once the device reaches the damaged vein, the fiber begins to rotate. As the fiber rotates, it carefully removes the lining of the damaged vein, while also delivering a medical solution to treat the underlying cause.
The catheter will continue to rotate for several minutes, and there may be a light humming sensation near the affected area, but it should not cause any major pain or discomfort. In contrast to EVLT and Sclerotherapy, each of which uses a single method of closing a damaged vein, ClariVein uses two modes of action to treat the damaged vein and the underlying cause of the damage.
Like other treatments we offer at USA Vein Clinics, this procedure is performed with local sedative and is performed in an office-based setting at our one of our vein treatment centers. The treatment session can be completed in as little as 30 minutes. Since no major incision is made and none of the tissue surrounding the affected area is damaged, there is very little chance of scarring or bruising. After a ClariVein treatment, patients are able to return to normal activities almost immediately.
Is ClariVein Safe?
Yes, and it has been found to be an effective, relatively painless procedure. In 2017 there was a study[1] conducted in the UK published through SAGE journal, that includes useful information about the safety and success of ClariVein treatment. The study, titled "ClariVein® – Early Results from A Large Single-Center Series of Mechanochemical Endovenous Ablation for Varicose Veins", focused on the effectiveness and patient experience of the treatment.
The results of the study revealed that of all 393 procedures for venous insufficiency completed using ClariVein, only 3.3 percent required a second treatment session after the eight-week checkup. The study also found that the average pains score reported across all 393 procedures was only .8 on a scale of 1-10. However, it is important to understand that every person's pain tolerance and treatment experience varies.
What Are the Benefits of ClariVein?
The ClariVein procedure is less invasive than other vein treatments that are available for venous insufficiency as it does not require multiple incisions to be made or multiple injections of anesthesia. It is a non-thermal treatment method, meaning that it does not use laser energy to close damaged veins.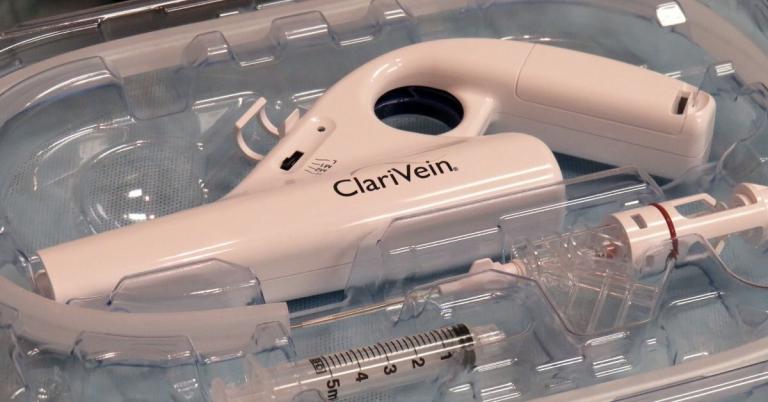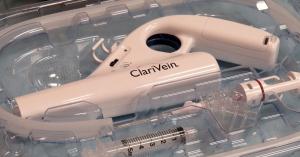 These two factors result in a shorter recovery time for less-severe cases, and a reduced likelihood of developing complications after the procedure. Since the catheter on the ClariVein instrument is very small, it does not require a major incision to be made which means a decreased risk of bruising, scarring, or damaging of nearby veins and tissues.
The vein specialists at USA Vein Clinics are experts in the ClariVein ablation procedure as well as other minimally invasive, outpatient treatments for vein problems. Our goal is to make sure you feel confident when you decide on ClariVein treatment for varicose veins and underlying venous insufficiency.
We understand that your life is busy, so we strive to make vein treatments more accessible for you without the need to take time off from work or your usual activities.
What to Know Before Your ClariVein Treatment
If you are planning to get treatment using our ClariVein procedure, here are a few tips before you come to your appointment:
Don't shave your legs before your ClariVein treatment.
Wear loose fitting clothes to your appointment.
Don't apply lotions or moisturizers on your legs before your treatment.
Bring your compression stockings with you (talk to the doctor if you should be wearing them or carrying them with you).
Always have your medical insurance and I.D. with you.
We want you to feel as assured and comfortable as possible throughout your entire vein treatment process. If you're unsure what to bring with you to your appointment, call us at 888.768.3467 and we'd be happy to help.
What to Expect After ClariVein
At USA Vein Clinics, we want to ensure that our patients feel comfortable and educated before undergoing any treatment at our facilities. After your ClariVein treatment, you may experience:
Mild discomfort: Not all people experience this, but some may experience a mild, achy feeling or restlessness several days after treatment. This mild discomfort lets us know that your treatment is working. The degree of discomfort is related to the initial size and amount of the diseased veins. Pain is usually improved by walking, light stretching, and elevation. If you experience more than mild discomfort, contact your vein specialist immediately.
Tenderness around veins: You may experience a light tenderness around your veins. This is because the ClariVein treatment is working to close diseased veins. There may be some tenderness, so just be careful about bumping your legs a few days after treatment.
Small spider veins: You may notice a few, small spider veins appearing just beneath the skin. This may happen when ClariVein closes the damaged veins and blood is rerouted to other, healthier veins. During this process, tiny bits of blood may be routed to tiny blood vessels. Your vascular specialist may recommend sclerotherapy after your final session to clean up superficial veins.
Slight discoloration: A few days after treatment, you may notice slightly darker spots on your legs that may resemble bruises. Compared to other vein treatments, ClariVein has the least amount of bruising post-treatment. Despite this, you may notice a few darker spots that will go away on their own.
If you are concerned about a symptom not mentioned above, please give us a call anytime. Our specialists are happy to answer all of your questions regarding your treatment. Even if you have completed treatment with us, we want to make sure you are recovering well.
We're Here to Help
At USA Vein Clinics, helping our patients get the care they need to live happy, healthy lives is our top priority. We have locations throughout the United States, and are adding new locations constantly in order to reach as many patients as possible.
Call us at 888.768.3467 if you want to learn more about ClariVein treatment, or if you want to learn more about our locations, physicians, or insurance coverage. We always do our best to work with your insurance provider to maximize your coverage.
Don't feel like calling? Schedule your consultation online at one of our vein treatment centers to meet with a vascular specialist today.
Resources
[1] Tang TY, Kam JW, Gaunt ME. ClariVein® – Early results from a large single-centre series of mechanochemical endovenous ablation for varicose veins. Phlebology. 2017;32(1):6–12. doi:10.1177/0268355516630154