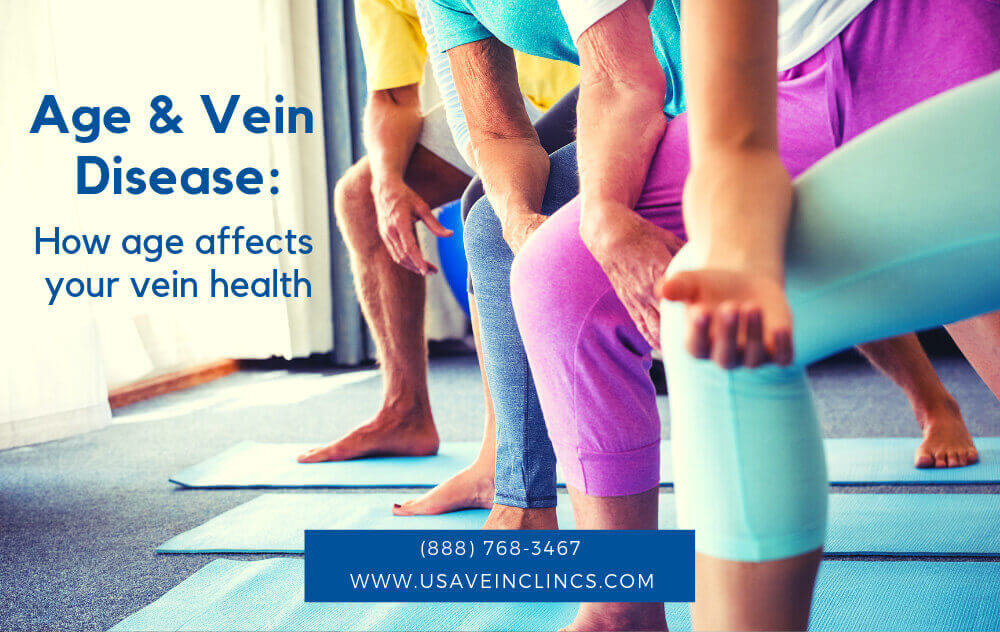 Wednesday, February 13th, 2019
Healthy blood circulation is essential to your overall health because your veins carry blood from different parts of your body to the heart. But, the older people get the more risk they have for vein disease. One out of three Americans over the age of 45 has at least one type of vein disease. [1] We have compiled data to show how vein disease can progress with age.
Is there a link between age and vein disease?
Vein disease can affect people of any age; however, there is some evidence that shows the risk increases with age. One statistic states that one out of every two people over the age of 50 has varicose veins. [2] As people age, their veins can become damaged and weaken, which allows for blood to pool in their legs instead of flowing back to the heart. This causes veins to become swollen or painful, and can lead to the development of deep vein thrombosis (DVT). DVT is a condition where blood clots form in the veins deep inside the body and become fatal if they rupture.
Other factors that can lead to vein disease include: obesity, smoking, inactive lifestyle, and extended periods of sitting or standing. As such, it is important for people to maintain a healthy lifestyle as they age to decrease the other risk factors that can lead to vein disease.
Can young adults get vein disease?
Although it is not as common, people in their 20s and 30s can develop vein disease. As it was stated above, inactivity or prolonged periods of sitting can increase a person's risk of vein disease. Many young adults spend more time than previous generations in seated positions. It can be difficult to find time to exercise with busy work schedules, but any sort of physical activity can decrease risk of developing vein disease. Another risk for young people is if vein disease runs in their family. Genetics can play a role in vein disease as well. Young adults with parents or family members with vein disease have a higher risk of developing vein disease at a younger age.
Women who are pregnant are more susceptible to vein disease, which is another risk factor for people in their 20s or 30s. The increased blood flow and added pressure from extra weight may cause varicose veins during pregnancy. While it is common for varicose veins to heal on their own a few weeks after the baby is born, some women do not experience relief. There is no way to completely prevent varicose veins, but there are treatment options available to relieve symptoms.
Finding treatment for vein disease
If you are suffering from varicose veins, then it is time to find treatment before the condition becomes life-threatening. It is important to remember that untreated varicose veins will not go away on their own, so finding a clinic to treat them will improve your symptoms and quality of life.
USA Vein Clinics provides a world-class nonsurgical vein treatment that prevents health risks caused by blood clots, DVT, and other venous conditions. Our doctors use a procedure called Endovenous Laser Therapy (EVLT) to eliminate varicose veins. On the day of the procedure, a local anesthetic is administered at one of our outpatient clinics to relieve any discomfort during treatment. The doctor will then insert a laser fiber guided by an ultrasound into the diseased vein. Then an application of laser energy is used to heat and close the diseased vein. The blood flow from the diseased vein will be taken over by the healthy surrounding veins and the diseased vein will eventually be absorbed by the body.
If you are interested in learning more about our outpatient EVLT treatment, please visit our website at www.usaveinclinics.com or call (888)-768-3467 to schedule your consultation. Our doctors are committed to improving their patients' lives by decreasing their symptoms so they can live the life they deserve.
Research