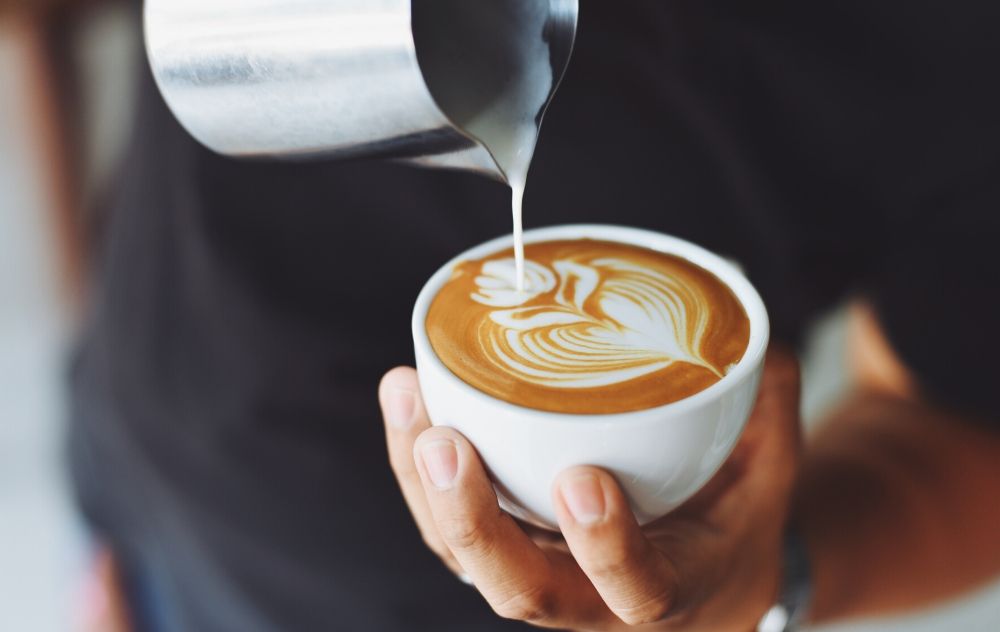 Sunday, August 23rd, 2020
For many, there's nothing quite like that first cup of steaming coffee in the morning. Caffeine is a natural stimulant that is enjoyed by billions of people around the globe. When consumed in moderation, it can help you feel more awake, alert, and focused. 
As wonderful as coffee can be, you probably know how easy it is to go overboard and drink too much. Large amounts of caffeine can have unpleasant side effects, negatively impact your vein health, and lead to undesirable health conditions.
If you already suffer from venous insufficiency or vein disease, you may wonder what caffeine does to your veins. Our vein experts at USA Vein Clinics can help. Below, you'll find everything you need to know about drinking coffee, varicose veins, and available vein treatment options. 
Does Coffee Cause Varicose Veins?
Caffeine consumption can impact your vein health, whether you already have varicose veins or are at risk for developing them. But how does this occur?
Caffeine can constrict blood vessels and elevate blood pressure. Prolonged, elevated blood pressure can place increased strain on your veins. In turn, this strain can cause damage to the vein valves in your lower extremities. 
All of this matters because your vein valves are responsible for pumping blood against gravity back to the heart. When veins malfunction, this process becomes inefficient. As a result, blood can pool in your legs, ankles, and feet. 
Vein disease affects over 30 million individuals in the United States and is the underlying condition that causes varicose veins. Vein disease symptoms include:
Swelling in the legs and ankles

Tired, aching legs

Burning in the calf or thigh

Leg pain that feels better when you walk or raise your legs

Itchy, dry skin

Numbness or tingling sensation

Difficulty standing for long periods

Non-healing wounds on your legs
If you believe you are experiencing any of these issues, we recommend visiting your doctor as soon as possible. If left untreated, vein disease can put you at risk for serious health issues like venous ulcers and blood clots.
How Does Caffeine Impact Vein Health?
You probably already know that what you eat and drink can impact your blood pressure. Certain foods and drinks can make things worse. If you have high blood pressure, you may wish to avoid caffeine and follow a healthy, well-rounded diet. Ask your doctor about safe amounts of caffeine, if any, for your individual situation. They may recommend that you limit sodium and sugars, along with losing any excess weight. 
Unfortunately, the reality is that avoiding caffeine will probably not prevent you from getting varicose veins. It may, however, reduce your risks or keep symptoms from getting worse. You should be aware that there are many other contributing factors to the development of vein disease, which include:
Having a family history of varicose veins

Being female

Obesity or being overweight

Pregnancy

Being age 60 or over

Standing or sitting for long periods of time

Lack of physical activity

High blood pressure
If you are concerned about your risk factors, we suggest contacting a vein specialist. Regular monitoring and early intervention are both key elements to obtaining the best medical outcomes.
Is Coffee Bad for Varicose Veins?
Like many things in life, moderation is key when it comes to caffeine and vein health. It is generally believed that most healthy adults can safely consume up to 400mg each day. This is the equivalent of four cups of regular coffee. However, everybody processes caffeine a little differently. A safe amount of caffeine can vary based on body weight, certain medications, and sensitivity to caffeine. 
Caffeine comes in a variety of forms, including coffee, tea, soda, and energy drinks. It is also found in chocolate and other foods. No matter how you choose to consume it, consider moderation. 
Also keep in mind that the actual amount of caffeine in various drinks and foods can vary significantly. Energy drinks, for example, are notorious for packing in unsafe levels of caffeine. Even decaffeinated beverages still contain a small amount of caffeine. 
If you drink too much caffeine, you may experience worsening vein disease symptoms, along with:
Trouble sleeping

Nervous jitters

Anxiety

Accelerated heart rate

Upset stomach

Headache
While cutting back on caffeine may help reduce these issues, it is not a cure for varicose veins. If you are suffering from painful, uncomfortable, and unsightly veins, it may be time to look into vein treatment.
Do I Need To Give Up Coffee? 
There's a lot of conflicting information about how consuming caffeine affects your health. While some studies tote the many health benefits of drinking coffee, others blame it for a variety of health conditions. Most experts agree that if you are relatively healthy, drinking your morning cup of joe should be okay. For these individuals, moderate amounts of caffeine do not appear to have any significant effect on vein health. 
However, this may be a different story when it comes to caffeine, varicose veins, and vein disease. To avoid developing complications from underlying vein issues, ask your doctor about reducing or eliminating caffeine intake if you:
Have high blood pressure

Experience any negative effects from caffeine

Are experiencing symptoms of vein disease, such as varicose veins
What Are My Vein Treatment Options?
If you have varicose veins, our vein specialists are available to help. At USA Vein Clinics, we offer a range of minimally-invasive, non-surgical vein treatments. Most treatments take only 15 to 30 minutes, depending on the number of veins being treated. Afterward, you can leave immediately and return to most of your normal activities. 
We believe that treating malfunctioning veins can ultimately improve your life. Our experts offer the following FDA-approved, state-of-the-art vein treatment techniques:
Endovenous Laser Therapy (EVLT)

Varithena Vein Treatment

Ultrasound-guided Sclerotherapy

ClariVein™
How Do I Get Started?
Our top-rated vein specialists at USA Vein Clinics make it easy to learn more about your vein treatment options. We treat varicose veins, spider veins, reticular veins, restless leg syndrome, and more. During an initial visit, we gather information about your condition and develop an individualized treatment plan. 
To get started, you can schedule an in-person appointment or a telemedicine consultation, whichever is more comfortable and convenient for you. We offer 90 clinic locations nationwide and look forward to helping you take back control of your life.