Are you interested in scheduling a virtual doctor visit, but aren't quite sure what to expect? A virtual doctor appointment, also known as an online doctor consultation, e-visit, or telemedicine visit, occurs completely online. During your appointment, computers or smartphones with video cameras and an internet connection are used to provide real-time, direct communication.
You may be surprised at how similar a virtual visit can be to an in-person office visit. Beyond that, telemedicine allows you to have access to quality vein care from the comfort and safety of your home. At USA Vein Clinics, our specialists are pleased to offer our patients this convenient option.
Benefits of a Virtual Doctor Visit
At USA Vein Clinics, we are truly dedicated to providing effective solutions for people suffering from the painful symptoms of vein disease. We don't want anyone to feel like they can't find relief from their symptoms. Our virtual doctor visits are the easiest and simplest way to consult with a medical professional for all your vein disease needs.
The benefits of scheduling an online doctor consultation include:
Convenience:
We know you may not always have the time to make it in for an appointment. Our online doctor consultations allow you to consult with our medical experts, on your own schedule, from the safety and convenience of your home. That means you get to avoid wait times and get in touch with a specialist when you're ready.
Covered by Insurance:
These virtual doctor sessions are covered by most insurance plans including Medicare and Medicaid. You can meet with a vein specialist from our virtual vein center on your own time and receive expert care and advice for managing your vein disease symptoms.
Same Quality as an Office Visit:
If you have vein disease, you don't have to sit at home suffering in pain. When you receive a virtual doctor visit with us, you can expect the same quality of patient care as an in-person office visit. Our specialists have decades of combined experience treating vein disease through the use of minimally invasive procedures.
When you schedule a virtual visit (or an online doctor consultation) with one our specialists, they will observe your symptoms with the same high patient-care standards as used in-office. They will then make a treatment recommendation based on your condition and address any concerns you may have.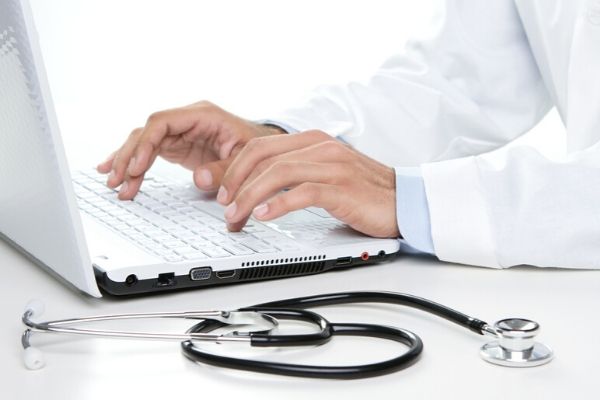 Frequently Asked Questions
Are Virtual Doctor Visits covered by Insurance?

Online doctor consultations are accepted by most insurance plans including Medicare and Medicaid. Give us a call at 888.768.3467 to verify your coverage.

How Do Virtual Doctor Visits Work?

Once you have scheduled a virtual visit, one of our vein specialists will reach out to you at the time you specify is most convenient. From here, you will consult with them about your symptoms and receive a treatment recommendation. Once you're ready, we can help you schedule a procedure appointment to begin your treatment.

What Device Do I Need for Virtual Visits?

Any device with a webcam and access to the Internet will work
Laptop, Desktop Computer, Smart Phone, or Tablet

How Much Do Telemedicine Consultations Cost?

These telemedicine vein consultations are covered by most insurance plans. Give us a call at 888.768.3467 to verify your coverage.
Symptoms of Vein Disease
Vein disease, also known as venous insufficiency, is most commonly associated with physical effects like varicose veins and spider veins. Vein disease is the leading cause of these symptoms; however, the improper circulation of blood in your lower extremities can cause other symptoms that can impact your quality of life.
These symptoms include:
Swelling in your legs and ankles
Cramps or achiness in the thigh or calf
Tired or heavy legs – (common for vein disease in legs)
Restlessness, especially at night
Itchy, dry, or hardened skin on your legs
Wounds on your legs or ankles that take a long time to heal or don't heal at all
Leg pain that goes away when you walk or elevate your legs
It can be easy to disregard your symptoms, especially if they're not severe. Many people delay getting checked for underlying vein disease because they believe the symptoms are a result of aging. Vein disease is a progressive condition that may worsen over time. Symptoms of vein disease in legs may start off as a nagging annoyance and become more painful and debilitating if left untreated.
Don't Delay Treatment
As mentioned earlier, vein disease is a condition that can grow worse over time if treatment is avoided. Due to the improper flow of blood, vein disease has the potential to cause serious complications like Deep Vein Thrombosis (DVT), a leading cause of pulmonary embolism, a blockage in the lungs. When the legs and feet do not get enough blood, it can also cause wounds or small cuts to take longer to heal, which raises risk for infection.
Vein disease treatment is effective, efficient, and affordable, thanks to the development of new highly innovative medical technologies like Endovenous Laser Treatment (EVLT) and ClariVein®.
Contact Us
If you're sitting at home suffering in pain from your vein disease symptoms, give us a call to see how you can benefit from our online doctor consultations. Once you schedule your online visit, your treatment procedure is only one appointment away.
Click here for our response to the COVID-19 outbreak.