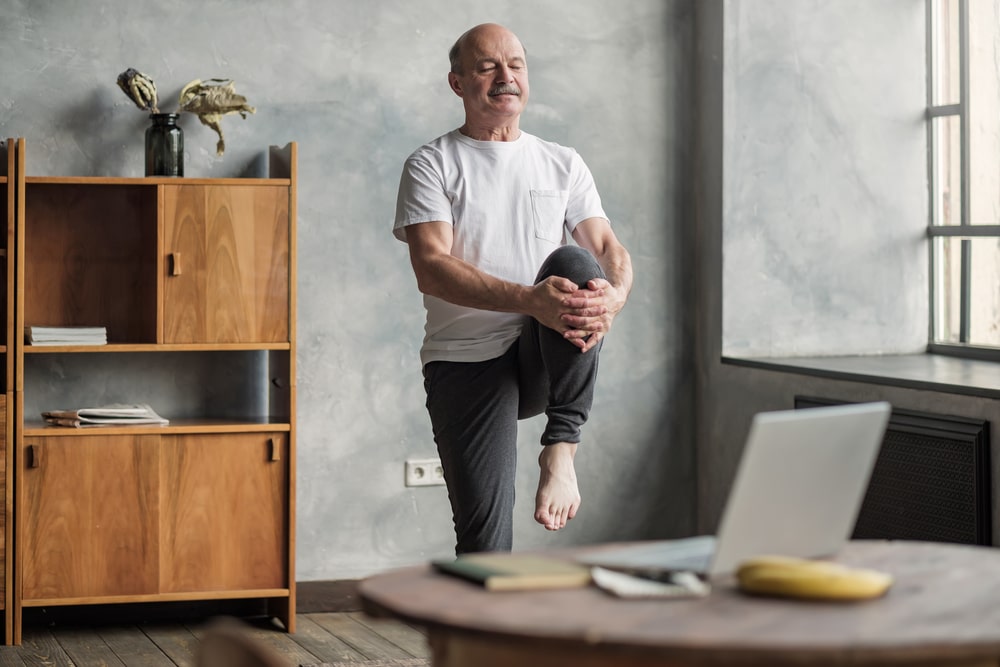 Thursday, January 27th, 2022
Since the beginning of the pandemic, millions of Americans have discovered the many benefits of working from home. If you are one of them, you may now experience the joys of working in your pajamas instead of uncomfortable clothing. You may be enjoying more time for leisure activities without your usual commute. Some even find that they are more productive at home without constant meetings and other distractions. With more time available, people have begun to exercise more regularly and find creative ways to stay active at home.
Of course, there are downsides to working remotely. For instance, you may miss ongoing camaraderie with colleagues and feel lonely or isolated instead. Also, many working parents are more torn than ever between professional and family responsibilities. Unfortunately, many individuals still struggle to stay active.
Inactivity contributes to the development of varicose veins and spider veins. If you work in a virtual office and need advice on how to stay active when working from home, we can help. Below, check out some expert advice on five work from home activities to get you moving. We also discuss why it is important to stay active and benefit your vein health. If you have additional questions, we recommend consulting a vein specialist.
5 Ways to Stay Active at Home
If you're already exercising regularly, we encourage you to keep it up. If you need help getting started, some of the ideas below may help. Most people have the best intentions when it comes to ways to stay active when working from home, but sometimes life can get in the way. Here are five easy ways to stay active, exercise regularly, and promote better blood circulation during these unusual times.
1. Schedule Your Workouts
If you're working from home, you may be struggling to control your work-life balance. Although your commute may be non-existent and there should be enough time (and motivation) for exercise, somehow, there never is. We also understand that during busy workdays, it can be particularly challenging to figure out how to stay active at home.
To start each day off on the right foot, we suggest scheduling your workouts first thing in the morning. That way, no matter what happens during work hours, your health will always be your top priority. Choosing an activity that you enjoy, such as taking a walk through your neighborhood or streaming an online yoga class, can help motivate you. You might also enjoy the company of a friend or family member to join you.
You will experience both immediate and long-term health benefits when you exercise regularly. Physical activity promotes better blood circulation, which can reduce your risk of developing vein disease. It can also help alleviate painful venous symptoms like leg swelling and cramping.
2. Move Around
A more recent phrase, "Sitting is the new smoking," provides good advice. Studies have shown that sitting for prolonged periods is bad for your overall health and should be avoided.
Sitting or standing for prolonged periods are major risk factors for developing vein disease, or venous insufficiency. Vein disease is the underlying cause of varicose and spider veins. It can lead to other severe health conditions like blood clots and venous ulcers, open, non-healing wounds. One type of potential blood clot, known as deep vein thrombosis (DVT), can lead to pulmonary embolism, a life-threatening condition that requires emergency medical attention.
Always talk to your doctor before increasing your activity. Most likely, they will applaud your efforts and be supportive. In some cases, they may recommend certain activity restrictions such as not lifting heavy weights or not exercising too strenuously.
Along with exercising regularly (at least 30 minutes daily, five days a week), we recommend moving around as often as possible throughout the day. To help you remember, set an hourly alert on your smartphone or computer. When it chimes, be sure to get up, stretch, and walk around. Another helpful technique is to walk while you talk by getting out of your chair and away from your desk whenever you get a phone call. To review how you're doing at the end of the day, it may be helpful to track your daily movements with a smartwatch or fitness device.
Keep in mind that physical activity helps promote better blood circulation. This can help you avoid the development of vein disease, along with alleviating related pain and swelling in your lower extremities.
3. Wear Comfortable Shoes and Loose, Comfortable Clothing
Consider wearing comfortable shoes and avoiding tight-fitting and restrictive clothing for better vein health. Instead, go barefoot at home (your co-workers on Zoom won't notice) or wear comfortable shoes. It may also be a good idea to avoid constrictive clothing, other than prescribed compression socks. In general, wearing looser, more forgiving items can be more comfortable for people with varicose vein symptoms. Plus, wearing non-constrictive clothing may be perfect when it comes to how to stay active when working from home. You'll be ready for some stretching exercises when you take breaks.
Although we certainly encourage you to move around, it may be helpful to avoid walking into the kitchen too often. Keeping a close eye on what you eat can help stave off vein disease.
4. Avoid Mindless Munching
Maintaining a healthy body mass index (BMI) is key to managing your vein health. Being obese or overweight increases your risk of developing vein disease, so try to control excess snacking and eat healthy, well-rounded meals. Additionally, stick to regular mealtimes and reach for low-calorie, healthy snacks when you are hungry. When it is time for a meal, plan to include fresh fruits and vegetables, whole grains, lean proteins, low-fat dairy products, and unsaturated fats like olive oil and avocados. Regular exercise can also help you maintain a healthy weight.
If you are struggling, you are not alone. Many people gained weight during the pandemic due to working from home. Free dietary apps allow you to track calories easily and other nutrients. You may be surprised to find how a bit of mindfulness can affect your snacking habits. Learning how to stay active at home can also make a big difference in managing your weight.
5. Elevate Your Feet
One benefit of working from home is that it's easier to put your feet up. This practice can help reduce painful and uncomfortable vein disease symptoms like swelling, aching, itching, and cramping. It can also help keep symptoms from progressing.
Elevate your feet above the heart several times a day to discover relief from venous symptoms. If you are experiencing symptoms of vein disease, you may wish to consider vein treatment. One of our highly experienced vein specialists can provide personalized treatment recommendations.
Why Is It Important To Stay Active?
It is possible to enjoy a range of health benefits when you learn how to stay active when working from home. These include greater energy levels, better concentration, higher self-esteem, and improved sleep quality.
When it comes to improving your overall vein health, staying active can help you to:
Maintain a healthy BMI
Improve your blood circulation
Avoid developing additional varicose and spider veins
Reduce risks for serious issues like blood clots and venous ulcers
Improve your quality of life
Staying active can help keep your veins healthy. Vein disease, or venous insufficiency, often develops when the valves in your veins are weakened or damaged. This can occur due to genetics, pregnancy, aging, inactivity, prolonged standing, or even spending too much time sitting at your desk while working at home.
Beyond Staying Active
Along with exploring ways to stay active when working from home, there are a range of additional things you can do to improve your vein health. Some of these include:
Eat a nutritious diet
Quit smoking
Avoid long periods of standing or sitting
Wear compression socks when prescribed
Visit a vein specialist and explore your treatment options
For more on how to maintain healthy veins, schedule a visit with a USA Vein Clinics specialist who can address your unique situation.
Schedule a Consultation at USA Vein Clinics
To learn more about staying active to improve vein health, consider visiting one of our highly skilled vein specialists. At USA Vein Clinics, we treat a range of potentially dangerous venous conditions including varicose veins, spider veins, restless legs syndrome (RLS), and venous ulcers.
Our minimally invasive, outpatient vein treatments can be performed in under an hour, from start to finish. After your procedure, you can go home and return to most normal activities, including working at home. Most major health insurance plans cover our leading treatment methods, which include:
We understand that many of our patients are concerned about the spread of COVID-19. For your safety and convenience, we offer a choice of in-person or virtual doctor visits. We also want to assure you that we are following strict protocols to keep our patients, staff, and communities healthy.
When you are comfortable coming into one of our locations, we offer more than 90 treatment clinics nationwide. Your vein specialist will review your health history and medications during your initial consultation. They may also perform a leg ultrasound to determine the health of your veins. Afterward, a personalized treatment plan can be recommended.
If you are concerned about the cost of vein treatment, our financial specialists can work directly with your health insurance provider to maximize your plan benefits. We also offer additional financial resources. To get started, call 888.768.3467 or schedule an appointment online today.