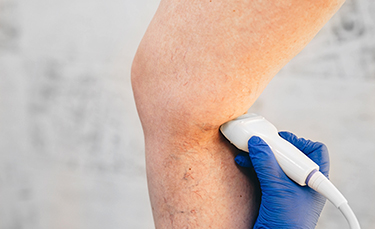 Monday, August 31st, 2020
Northbrook, IL, August 31, 2020—USA Vein Clinics, a national network of minimally-invasive vein treatment clinics, is pleased to welcome vein specialist and general surgeon, Charles Perrott, M.D, to its suburban locations in Mundelein, Elk Grove Village, Elmwood, and Northbrook starting September 1, 2020.
In addition to his understanding of vein disease, Dr. Perrott has specialized in a full spectrum of general and laparoscopic surgery. He has been published in numerous medical journals and served on the editorial board of the Journal of Emergency Medicine. In 2019, he received a distinguished teaching award from the MGH Institute of Health Professions.
"As a general surgeon, I began to recognize that venous disease was not widely taught or treated, despite a number of patients complaining of significant symptoms. I decided to concentrate on offering the best, non-invasive therapies for these patients at USA Vein Clinics," said Dr. Perrott.
He offers a variety of non-surgical procedures to treat varicose veins, spider veins and relieve vein disease symptoms that help patients return to an improved quality of life including Endovenous Laser Therapy, Clarivein®, and sclerotherapy. Dr. Perrot is accepting new patients at the following locations:
Mundelein, 550 N Lake St, Mundelein
Elk Grove Village, 800 Biesterfield Rd, Ste 201, Elk Grove Village
Elmwood, 7230 W North Ave, Ste 106B, Elmwood
Northbrook, 4141 Dundee Rd, Northbrook
Vein disease, also known as venous insufficiency, affects 20 percent of the population. It is the underlying cause of painful, unsightly varicose veins. Most vein treatments, including state-of-the-art Endovenous Laser Treatment, can take only 15 to 30 minutes and allow patients to return immediately to normal activities.
To request a consultation at any USA Vein Clinics location, or to learn about a virtual visit, fill out our online scheduling form.
About USA Vein Clinics
USA Vein Clinics is the largest network of vein treatment centers in the United States with over 80 clinics. Their team of experienced cardiovascular surgeons offer a variety of minimally-invasive treatments to meet individual patient needs, including endovenous laser therapy, Clarivein®, and sclerotherapy treatments. USA Vein Clinics accepts most insurance plans including Medicare. Patients are encouraged to call 888.768.3467 to schedule an appointment or speak to an insurance specialist. For more information, visit www.usaveinclinics.com.
Media Contact:
Susan Swartz
[email protected]