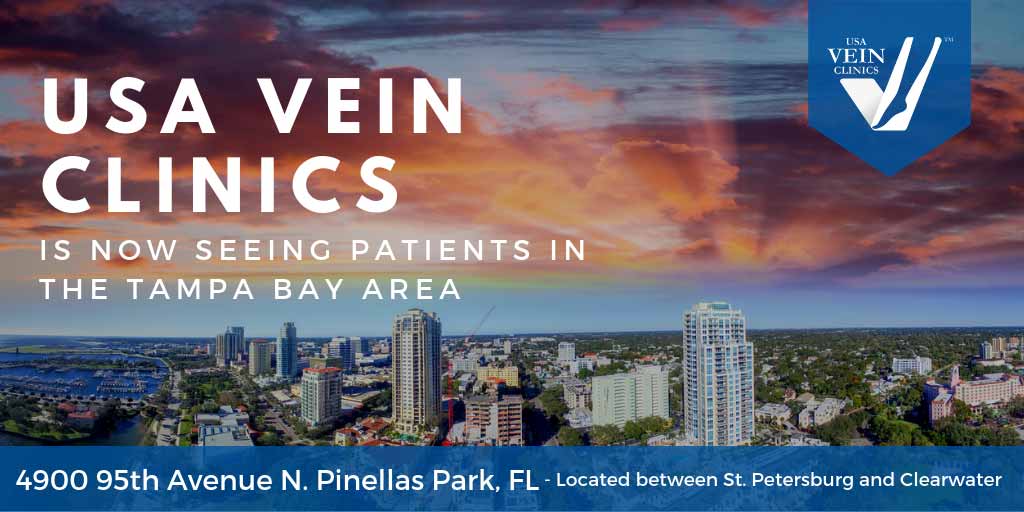 Thursday, September 6th, 2018
USA Vein Clinics is proud to announce the opening of a new vein treatment clinic near Tampa,
Florida, on September 4th, 2018. The latest state-of-the-art facility is located at 4900 95 th
Avenue North, Pinellas Park, FL 33772 and will operate Monday through Friday from 9 AM
to 5 PM. Our new clinic is conveniently located between Clearwater, St. Petersburg, and Tampa.
The grand opening of the Tampa Bay area location continues USA Vein Clinics' extension of
quality care to patients at the most convenient locations for them.
We are welcoming Dr. William Bowers to the USA Vein Clinics' team. Dr. Bowers comes with
years of experience and will be providing vein care, as well as other phlebology services to
patients located in the Tampa Bay area.
We are conveniently located 20 minutes from the following big cities: Tampa (18.5 miles),
Clearwater (12.5 miles), and St. Petersburg (11.4 miles).
Renowned cardiothoracic surgeon and founder of USA Vein Clinics Dr. Yan Katsnelson and his
team of the nation's top cardiothoracic and vascular surgeons and cardiologists strive to make
USA Vein Clinics one of nation's best clinics in vein care.
Dr. Katsnelson says, "This new expansion boasts many new opportunities! We have been
providing vein treatment to patients with vein disease for over 13 years. This cutting-edge vein
clinic in Tampa is part of our efforts to increase convenience for our patients and their families.
Our mission is to alleviate our patient's uncomfortable symptoms and give them the mobility
they deserve."
"As a healthcare provider, our goal is not only to treat patients but also to raise awareness about
the importance of getting treatment as soon as the symptoms of vein disease appear," says Dr.
Katsnelson. "Many of our patients first come to us for cosmetic purposes but then realize how
crucial it is to treat the underlying disease. Some of our vein patients have been living with
debilitating pain for years. We must emphasize the fact that symptoms of venous insufficiency
are more than just a cosmetic problem. The prominent varicose and spider veins on the surface of
the skin are indications that your vein valves may not be working properly."
Symptoms of venous insufficiency are progressive and include leg aches or cramps, heaviness,
itching, or burning in the legs, discoloration, and non-healing wounds. These symptoms may be
associated with serious complications, such as deep vein thrombosis (DVT) or skin ulcers.
People suffering from any vein disease symptoms should seek medical attention and appropriate
treatment as soon as possible to avoid complications. All treatments at USA Vein Clinics are
performed as minimally invasive, nonsurgical, outpatient procedures and are covered by
Medicare, most insurance plans, and Medicaid.
The new Tampa Bay clinic will offer minimally invasive, outpatient vein treatments allowing our
patients to live healthy, successful lives. All of our treatments take between 15-30 minutes from
start to finish. Our doctors take their time to provide their patients with the best healthcare
possible. They strive to present transparency through open communication during the entire
procedure.
Through our patient-focused mission for vein care, our goal is to improve the lives, raise
awareness, and educate our patients on the importance of vein disease treatment. We aim to
exceed our patients' expectations with respect and sensitivity to the individual needs of our
patients and their families. Living with leg pain can be limiting; choose minimally invasive vein
treatment that makes it easy to alleviate your symptoms for good.
If you or a loved one is suffering from symptoms of venous insufficiency, call USA Vein Clinics' new
Tampa Bay location at (813) 773-0988 to schedule your initial consultation.
ABOUT USA VEIN CLINICS
USA Vein Clinics is a network of state-of-the-art facilities dedicated to the treatment of venous
insufficiency. The doctors in each clinic, who are cardiothoracic and vascular surgeons and
cardiologists by training, provide a comprehensive evaluation and treatment plan utilizing
modern equipment and an individual approach to each of our patients. With 60 clinics now in
operation and plans for additional clinics already on the table, USA Vein Clinics has the
distinction of being the nation's only coast-to-coast vein treatment facility. Additionally, USA
Vein Clinics has been voted by patients as the #1 Vein Clinic four years running.