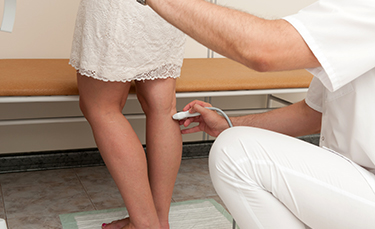 Wednesday, June 17th, 2020
Northbrook, IL, June 17, 2020—USA Vein Clinics announced the reopening of in-person visits and procedures in its Massachusetts locations starting June 17.  The decision to reopen was made in compliance with MA state and local health departments with the safety and well-being of patients and staff  as the top priority.
USA Vein Clinics will welcome patients at the following clinic locations:
Framingham, 855 Worcester Rd, Ste 13, Framingham, MA
Lynn, 280 Union St, Ste 401, Lynn, MA
West Roxbury, 1208B VFW Pkwy, Ste 300
Woburn, 800 W Cummings Park Dr, Ste 2500
USA Vein Clinics have taken a number of actions to protect its patients and staff and control the spread of the coronavirus in accordance with the expert guidance of the CDC and local public health authorities. Patients can expect a number of safety measures, consistent with those outlined by the MA Board of Medicine:
All staff and patients wear a mask while in the clinic
Medical equipment is cleaned and disinfected thoroughly before, during, and after each patient visit
Pre-screening of patients is done prior to their appointments
On-site wellness checkups to verify the health of each patient performed before treatment
Private treatment rooms to maintain social distancing
Increased sanitation of high-traffic areas
Antimicrobial gel stations added in each clinic
Emphasizing the importance of proper & frequent handwashing
"As we reopen in MA, USA Vein Clinics are being diligent in taking every extra precaution in our outpatient clinics to make our patients to feel safe and not defer treatment," said USA Clinics Group Co-Founder, Dr. Yan Katsnelson.
USA Vein Clinics also provides telemedicine services that allows highly trained interventional radiologists to interact remotely with patients for consultations in their homes. Telemedicine is accessible on any device with a webcam and an internet connection such as a smartphone, tablet, computer.
"Telemedicine helps make quality vein care more cost-effective and accessible," said Katsnelson. "It allows patients to receive health services away from settings where the potential for contracting COVID-19 are higher, such as hospitals, waiting rooms, and other high traffic areas."
USA Vein Clinics, the largest provider of treatment centers has achieved national recognition for providing comprehensive evaluation and evidence-based approach to patient care that results in consistent and better outcomes. "We are committed to partnering with  the medical community to help improve the quality of life of their patients by providing the care one should expect from a top vascular specialist," Katsnelson said.
Same day appointments are available. For more information to refer patient or to schedule an appointment, contact USA Vein Clinics at 888-768-3467.
About USA Vein Clinics
USA Vein Clinics is the largest network of vein treatment centers in the United States with over 80 clinics. Their team of experienced cardiovascular surgeons offer a variety of minimally invasive treatments to meet individual patient needs, including endovenous laser therapy, Clarivein ®, and sclerotherapy treatments. Most patients return to their normal activities the same day. USA Vein Clinics accepts most insurance plans including Medicare. Patients are encouraged to call 888.768.3467 to schedule an appointment or speak to an insurance specialist. For more information, visit www.usaveinclinics.com.
Media Contact:
Susan Swartz
[email protected]