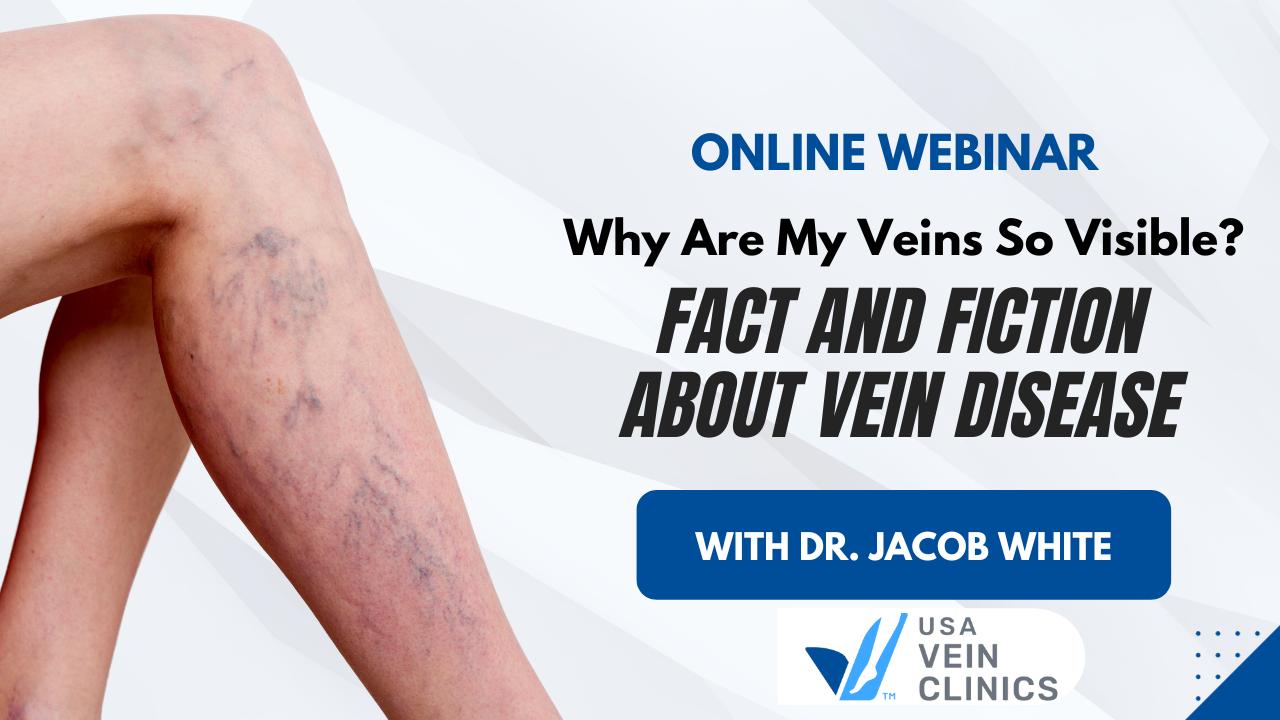 Thursday, September 28th, 2023
USA Vein Clinics announced today it is releasing another free on-demand webinar, "Why Are My Veins So Visible: Fact and Fiction About Vein Disease," to help the public learn about vein disease. The webinar is presented by Jacob White, M.D., Medical Director at USA Clinics Group, who uses before and after photos to illustrate symptoms and risk factors associated with vein disease. 
The webinar is one of two that USA Vein Clinics have released during Pain Awareness Month in September. The first webinar, "A Guide to Vein Disease" by Dr. Aaron Shiloh, can also be viewed on-demand on the USA Vein Clinics' website. 
USA Vein Clinics' educational and free webinars are a valuable resource for anyone struggling with venous insufficiency symptoms or those wanting to know more about vein disease and treatment options. The webinars can be downloaded, allowing viewers to watch the webinar whenever convenient. 
"Vein disease affects more than 25 million people in the U.S., with pain being one of the most obvious symptoms," said Yan Katsnelson, M.D. Founder and CEO, USA Vein Clinics. "Minimally invasive vein treatments today are safe, highly effective, and a huge improvement over traditional vein surgery. People need to know they do not have to suffer in pain with uncomfortable symptoms." 
Symptoms of vein disease include enlarged, swollen, knotted clusters of purple veins; swelling, aching or a sensation of heaviness in the legs; itching skin above the affected veins; skin discoloration; and ulcers. Varicose veins are more than a cosmetic problem; they can often leak excess blood into the surrounding tissue, leading to venous ulcers, deep vein thrombosis (DVT), and other serious problems. 
The "Why Are My Veins So Visible" webinar will cover:
• Why do veins become visible?
• Misconceptions around vein disease and varicose veins
• Symptoms and risk factors of vein disease
• Available treatments for vein disease 
To register for the free webinar, click here, or visit the USA Vein Clinics website at https://usaveinclinics.com/. 
USA Vein Clinics is recognized as a leader in nationwide vein care treatment and is accredited by the Intersocietal Accreditation Commission (IAC) for Vascular Testing, demonstrating commitment to quality care and optimal patient outcomes. 
To learn more about vein treatment or schedule a consultation, call USA Vein Clinics at (855)714-5347 or visit https://usaveinclinics.com/. 
About USA Vein Clinics
USA Vein Clinics is the largest network of vein treatment centers in the United States, with over 160 clinics nationwide. Their team of experienced cardiovascular surgeons and interventional radiologists perform a variety of minimally invasive treatments to meet individual patient needs, including endovenous laser therapy, EVLT, Clarivein®, Varithena, VenaSeal, Radiofrequency Ablation (RFA), and sclerotherapy treatments. For more information, visit http://www.usaveinclinics.com.