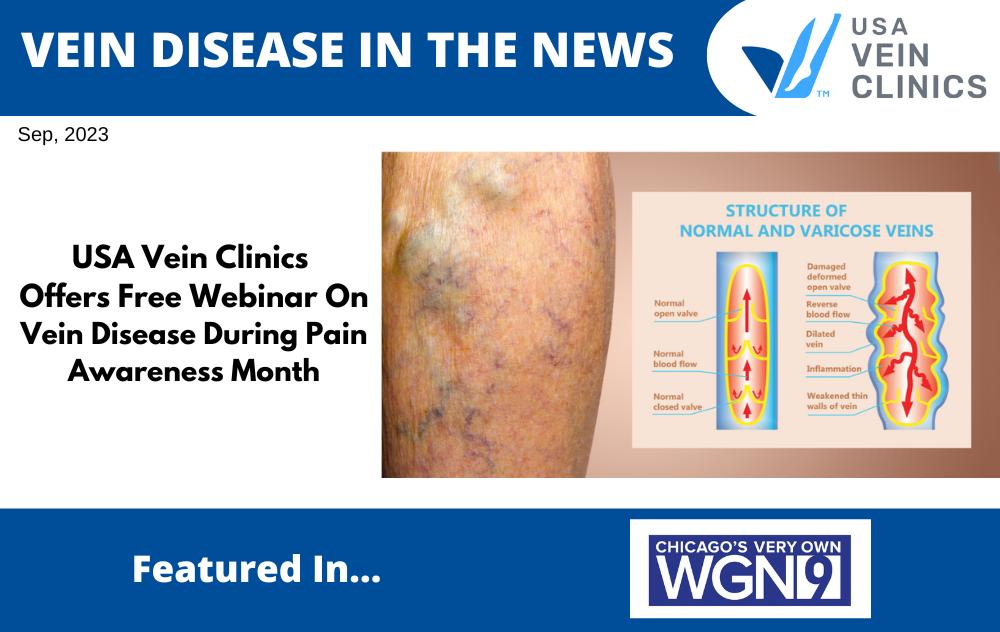 Monday, October 2nd, 2023
USA Vein Clinics, a national network of minimally-invasive vein treatment clinics, offered free webinars on vein disease during Pain Awareness Month in September.
Dr. Aaron Shiloh, an interventional radiologist at USA Vein Clinics, presented the first webinar. Dr. Shiloh covered the range of vein disease, common symptoms, and minimally invasive vein treatment. The webinar featured before and after treatment photos and is available to watch on demand.
Vein disease is a common condition that affects about one in twenty adults. It is caused by weak or damaged valves in the veins, which allow blood to pool and back up. This can cause varicose veins and other symptoms such as pain, swelling, burning, itching, tiredness, aching legs, or leg pain that improves with walking or when elevated.
If left untreated, varicose veins can leak excess blood into the surrounding tissue, leading to venous ulcers, deep vein thrombosis (DVT), and other serious problems.
USA Vein Clinics offers a variety of minimally invasive vein treatment options, including ClariVein®, Venaseal™, endovenous laser treatment (EVLT), ultrasound-guided sclerotherapy, visual sclerotherapy, varithena, and radiofrequency ablation.
The webinar is available on the USA Vein Clinics website.
To learn more about vein disease or schedule a consultation, visit usaveinclinics.com or call 888.768.3467.