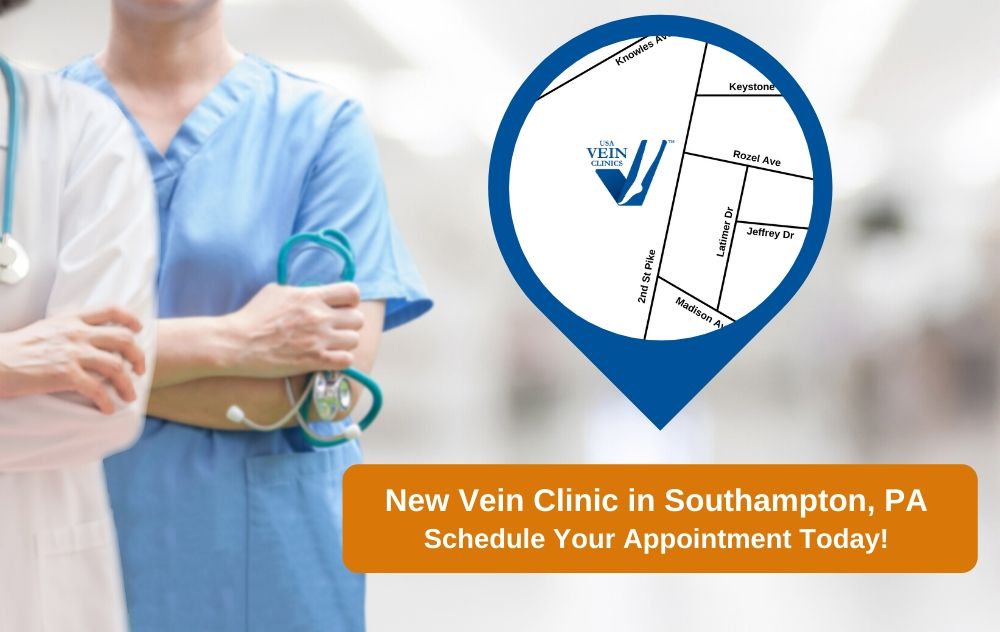 Tuesday, May 5th, 2020
As the nation's leader in providing the latest vein treatment procedures, we are proud to announce the opening of our newest vein treatment clinic in Southampton, PA. The clinic, located at 404 2nd St. Pike, will begin welcoming patients on Monday, May 18th. The Southampton clinic is in the Pike Plaza Shopping Center, about 17 miles north of downtown Philadelphia.
At USA Vein Clinics Southampton, as well as all of our locations, we are following extra precautionary measures to ensure the safety of our patients and staff.
"We are pleased to bring comprehensive and patient-focused care to the Southampton area," said Co-Founder of USA Vein Clinics, Dr. Yan Katsnelson.
"Our team of compassionate and experienced cardiovascular surgeons offer non-invasive treatment for varicose veins, spider veins, and other vein problems. This is the opening of our 10th clinic in cities across Pennsylvania and underscores our commitment to provide advanced vascular care to patients close to home."
Vein Treatment at USA Vein Clinics
We offer a variety of non-surgical treatments for symptoms of venous insufficiency like varicose veins and spider veins. Treatment options include the Clarivein procedure, a unique treatment method that treats the underlying cause of vein disease and prevents recurrence without the use of laser energy.
Other non-invasive treatment options include Endovenous Laser Treatment (EVLT), Ultrasound-Guided Sclerotherapy (USGS), Visual Sclerotherapy, and Varithena.
"Common symptoms of varicose veins include leg pain, heaviness, cramping or itching and difficulty walking," Katsnelson said. "While many people don't like the visible appearance of varicose veins— which affects 60 percent of Americans— they are a sign of vein disease that requires treatment so the body can circulate blood optimally."
When you choose us for your vein treatment, you also have the opportunity to attend your consultation virtually, through the use of telemedicine. These virtual consultations allow you to discuss treatment options with one of our vein specialists, minimizing your potential risk of exposure.
At USA Vein Clinics, we implement the highest patient-safety standards that meets health guidelines while providing treatment during the COVID-19 crisis.
For more information or to schedule an appointment, contact us at 888-768-3467 or schedule an appointment online.
About Us
At USA Vein Clinics, we are the largest network of vein treatment centers in the United States with over 80 clinics. Our team of experienced cardiovascular surgeons offer a variety of minimally-invasive treatments to meet individual your needs, including endovenous laser therapy, Clarivein, and sclerotherapy treatments. After treatment, you should be able return to your normal activities within the same day. We accept most insurance plans including Medicare. We encouraged you to call 888.768.3467 to schedule an appointment or speak to an insurance specialist.