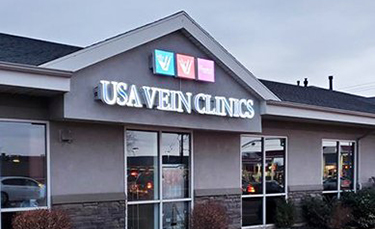 Thursday, March 11th, 2021
Roy, Utah, March 11—USA Vein Clinics, the nation's leader in providing minimally-invasive vein treatment procedures, announced today the opening of a new treatment clinic in Roy Utah. The clinic begins welcoming patients March 8 and is located at 3479 W 4800 S. It also serves the nearby surrounding communities of Riverdale, Syracuse, Layton, Kaysville and Clearfield.
"We are pleased to bring comprehensive and patient-focused care to the Flint area," said Founder and CEO, USA Vein Clinics, Dr. Yan Katsnelson. "Our expansion into Utah will include two additional clinics opening in April in the West Valley/Salt Lake City area and Holladay. These new outpatient treatment clinics reflect our commitment to offering residents access to advanced vein care close to their homes."
USA Vein Clinics offer various non-surgical treatments for symptoms of venous insufficiency like varicose veins and spider veins. Treatment options include the Clarivein procedure, a unique treatment method that treats the underlying cause of vein disease and prevents reoccurrence without laser energy. Other non-invasive and treatment options include Endovenous Laser Treatment (EVLT), Ultrasound-Guided Sclerotherapy (USGS), Visual Sclerotherapy, and Varithena.
"Many people don't like the visible appearance of varicose veins," Katsnelson said. "It's important to know they are a sign of vein disease that requires treatment so the body can circulate blood optimally," Katsnelson said. Common symptoms of varicose veins include leg pain, heaviness, cramping or itching and difficulty walking.
USA Vein Clinics implements the highest patient-safety standards that meet health guidelines while providing treatment during the COVID-19 pandemic. For more information or to schedule an appointment, contact USA Vein Clinics at 888-768-3467.
About USA Vein Clinics
USA Vein Clinics is the largest network of vein treatment centers in the United States with over 90 clinics. Their team of experienced cardiovascular surgeons offer a variety of minimally-invasive treatments to meet individual patient needs, including Endovenous Laser Therapy, Clarivein ®, and sclerotherapy treatments.
Media Contact:
Susan Swartz
[email protected]