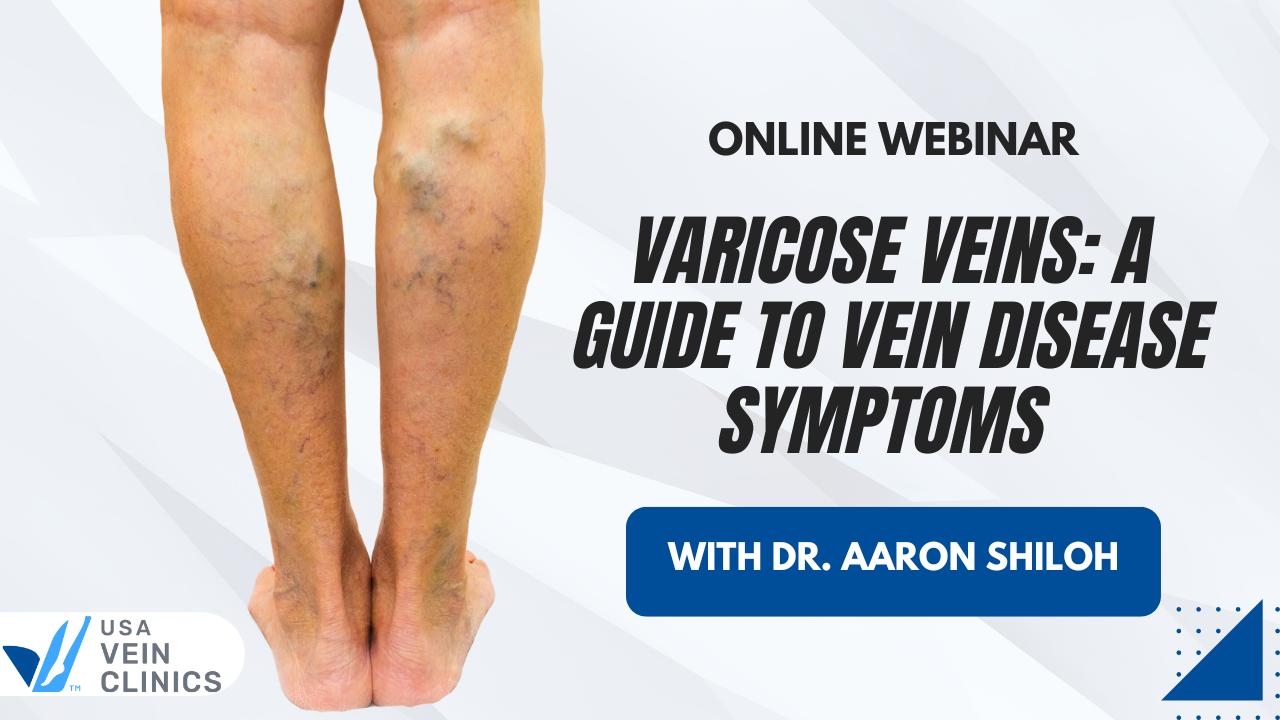 Monday, September 11th, 2023
Northbrook, IL, September 11, 2023 — USA Vein Clinics, a national network of minimally-invasive vein treatment clinics, offers a free webinar, "A Guide to Vein Disease" during Pain Awareness Month. The webinar, presented by Dr. Aaron Shiloh, interventional radiologist at USA Vein Clinics, explains the range of vein disease symptoms, and minimally invasive vein treatment.
The webinar features before and after treatment photos and can be watched on demand.
Vein disease is a common condition that affects about one in twenty adults.  It is caused by weak or damaged valves in the veins, which allow blood to pool and back up. This can cause varicose veins and other symptoms such as pain, swelling, burning, itching, tiredness, aching legs, or leg pain that improves with walking or evaluation. 
"Veins play a key role in circulating blood throughout your body, so it's important to be evaluated and treat vein disease early before it progresses to a more serious condition," said Yan Katsnelson, M.D., Founder and CEO, USA Vein Clinics. "Pain is the body's response to indicate that something is not functioning correctly." 
Untreated varicose veins can often result in excess blood leaking into the surrounding tissue, leading to venous ulcers, deep vein thrombosis (DVT), and other serious problems. 
USA Vein Clinics has achieved national recognition for providing comprehensive evaluation and an evidence-based approach to patient care that results in consistent and better outcomes. Treatment, based on the individual needs of the patient, can include the ClariVein ® or  Venaseal ™ procedures, which treat the underlying cause of vein disease and prevent reoccurrence without laser energy. Other non-invasive treatment options include endovenous laser treatment (EVLT), ultrasound-guided sclerotherapy,  visual sclerotherapy, varithena and radiofrequency ablation.   
The webinar is available on the USA Vein Clinics website at https://www.usaveinclinics.com/resources/webinars./. To learn more about vein disease or schedule a consultation, visit usaveinclinics.com or call 888.768.3467.
About USA Vein Clinics  
USA Vein Clinics is the largest network of vein treatment centers in the United States with over 160 clinics. Their team of experienced cardiovascular surgeons and interventional radiologists perform a variety of minimally invasive treatments to meet individual patient needs, including endovenous laser therapy, Clarivein®, Varithena,  VenaSeal, Radiofrequency Ablation (RFA), and sclerotherapy treatments. For more information, visit http://www.usaveinclinics.com.