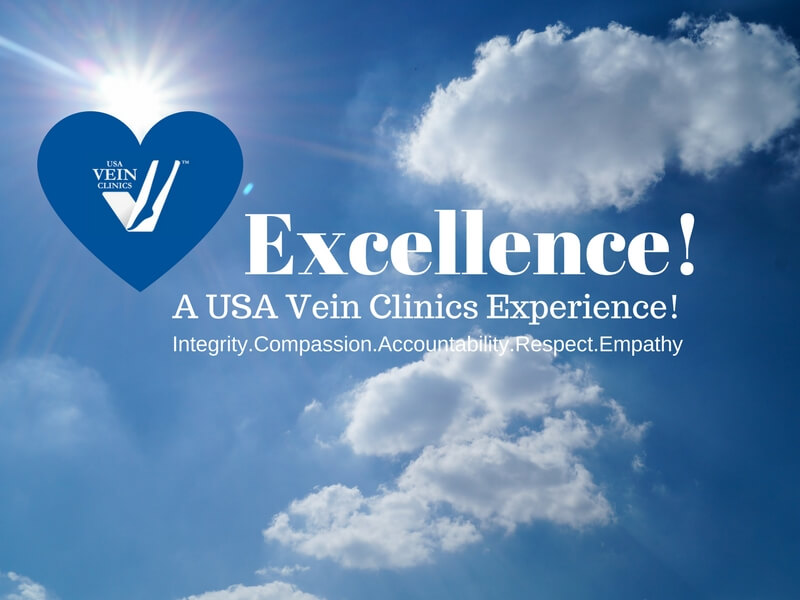 Tuesday, April 4th, 2017
USA Vein Clinics has been offering minimally invasive and non-surgical treatments to patients with symptoms of venous insufficiency since 2005. Our mission is to provide personalized vein and vascular care using innovative technology to transform and improve the health and quality of life of our patients.
We follow a set of core values and standards to provide our patients with excellent experience;
Quality care: We offer quality care to our patients as we understand they came to us to improve the quality of their lives and want to live pain free. Our vein and vascular specialists are leading doctors with many years of experience in minimally invasive vascular and vein treatments.
Highly effective treatments: We offer FDA approved, highly effective yet minimally invasive and non-surgical treatments for symptoms of venous insufficiency- Endovenous Laser Therapy (EVLT). In the past varicose veins were treated with a surgical procedure called vein stripping, where the vein was completely removed from the leg. EVLT is used to deliver laser energy in to the malfunctioning vein to seal it closed. The treatment is highly effective, virtually painless, non surgical and requires no recovery time
Convenience: To offer convenience to our patients, our vein clinics are located all over the US at most major locations. All our treatments are quick and are performed as an outpatient procedure. Most treatments take 15 to 30 minutes and the patient can resume normal activities immediately after the treatment which means no missed days from work.
Awareness about vein diseases: There is a common misconception that varicose and spider veins are a cosmetic problem. These veins are caused by dysfunctional valves in the veins which if left untreated can lead to serious complications. At USA Vein Clinics we offer vein care not just as a cosmetic procedure but as a medical treatment for an underlying condition; as if left untreated these diseased veins can lead to more serious complications.
Dedicated insurance department: Since venous insufficiency is a serious medical condition, the diagnosis and treatment of diseased veins is covered by Medicare and most insurance plans. We have a dedicated insurance department to help our parents with any insurance related questions they may have.
If you are suffering from leg pain and cramps, restless legs, tiredness and heaviness, leg swelling, itchiness, burning on the skin call (888) 628 9389 to schedule a consultation with one of our leading vein specialists at USA Vein Clinics.
So let's improve your quality of life by offering you excellent vein care; a USA Vein Clinics experience!