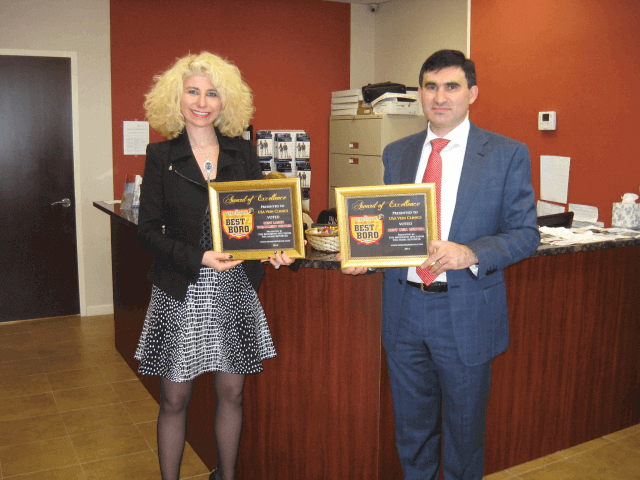 Wednesday, August 27th, 2014
When you need treatment for varicose veins, spider veins, or painful venous insufficiency of any kind, you want to go to the very best doctor for the very best treatment. You can find that treatment at USA Vein Clinics. We are happy to announce that for the 3rdyear in a row we have been named the Number One vein clinic in the nation, receiving the award for Best Laser Treatment Center and Best Vein Center from the Queens Courier newspapers in New York City. As the nation's only coast-to-coast vein clinic, we believe that it is up to us to set the standard for quality of care, physician training and patient outcomes for the treatment of varicose veins. That is why we pioneer modern vein treatments and introduce advanced clinical treatments to the market well in advance of other centers.  When thirty million Americans suffer from one very painful condition you know that high quality care is needed coast-to-coast.
That is one reason why we offer the most advanced varicose vein treatments to our patients, like Clarivein, the "Beyond Laser" method. (It is known to improve upon the minimally invasive Endovenous Laser Therapy (EVLT) and is more effective than ultrasound-guided Sclerotherapy.) Clarivein treats varicose veins without heat and requires only a small prick in the skin to begin treatment. Not only does Clarivein have a proven track record of positive outcomes but it also has the highest documented rate of reduced pain and increased patient comfort. That is always our goal. Treat the veins, reduce the patient's pain, and get them back to their preferred lifestyle in a matter of days, not weeks or months.
We know they aren't pretty, but varicose veins are much, much more than a cosmetic issue. If you suffer from varicose veins you know the pain of trying to stand on your feet. You are not alone. Fifty percent of all people over the age of 50 have varicose veins.  They are also very painful and can cause other health issues such as ulcers and blood clots. In fact, 600,000 people die each year from complications of vein disease.
We are here to help you.  Our work has earned us the "Best of" designation many times, and that is in part because we deliver the best care possible to each and every patient. Our doctors include graduates of Harvard and Stanford medical schools, and are extensively trained in vascular medicine. USA Vein Clinics has offices in Los Angeles, Chicago, Boston, New York City, Philadelphia, and Tinton, New Jersey.  Call us today so we can reduce, and hopefully eliminate, your pain.