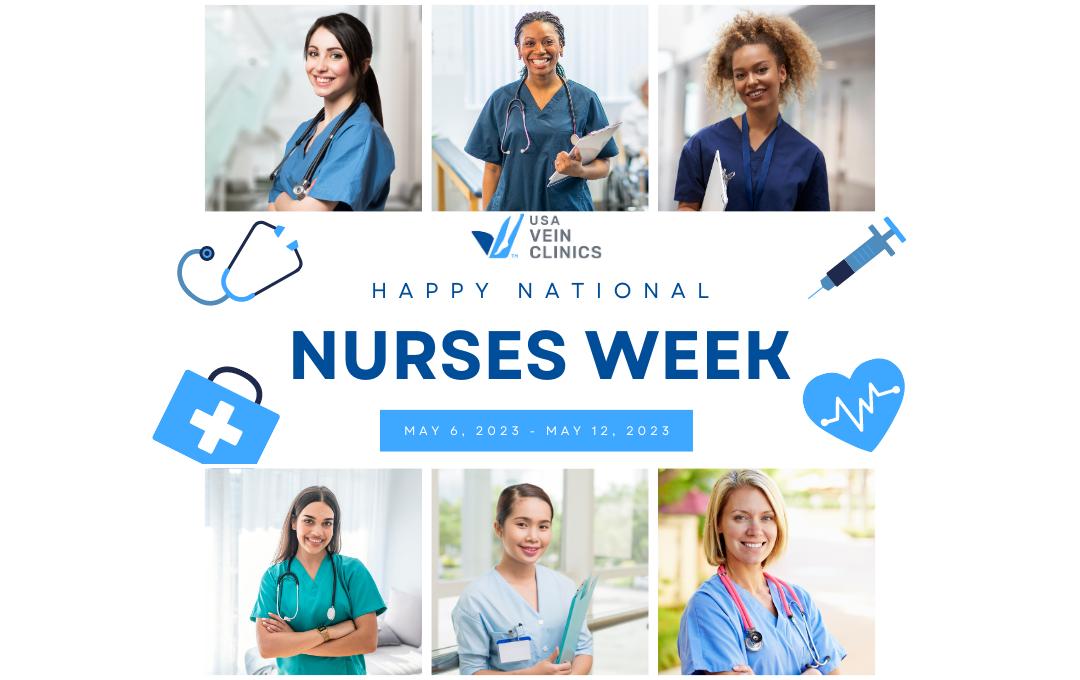 Monday, May 8th, 2023
Nurses are the backbone of our healthcare community, going above and beyond to provide critical care and unwavering assistance to patients and doctors. This year, from May 6th to May 12th, National Nurses Week is observed across the country to recognize and appreciate the devotion and service of nurses towards the medical field and their patients. 
The selflessness, care, and dedication our nurses display are an inspiration. USA Vein Clinics recognizes its nurses in honor of National Nurses Week. USA Vein Clinics believes their hard work and exceptional care help us achieve the highest rating for outpatient patient care.
Our nursing team is integral to providing a wide range of top leading-edge, minimally invasive vein treatment options best suited for your vein health condition. Although each option varies in approach, all the treatments work to close off blood flow to malfunctioning veins and divert it to healthy, surrounding ones. Our vein treatment options help alleviate symptoms like swelling in legs, ankles and feet, leg cramping, numbness, and non-healing wounds so that you can improve your quality of life.
We salute our nurses who have been essential to our healthcare workforce. When you walk into our clinics, you are welcomed with a smile in a  comfortable environment. The team at USA Vein Clinics strives to ensure that your treatment journey is efficient and smooth from the beginning to recovery. Our nurses make sure to communicate and listen to ensure you have the best care and treatment experience.
USA Vein Clinics has provided vein treatments since 2005, treating thousands of people successfully improve their venous insufficiency symptoms. 
Whether you are experiencing discomfort from early-stage varicose veins symptoms or suffering from advanced varicose vein pain symptoms, our trusted vein specialists and nurses can help. At USA Vein Clinics, we perform a range of minimally invasive treatments to alleviate your varicose vein symptoms in the legs and reduce your risks of developing additional venous issues.
For personalized treatment recommendations, schedule an appointment with one of our empathetic vein specialists today, or call us at 888.768.3467. We offer expert consultations at over 100 locations nationwide and virtual doctor visits.