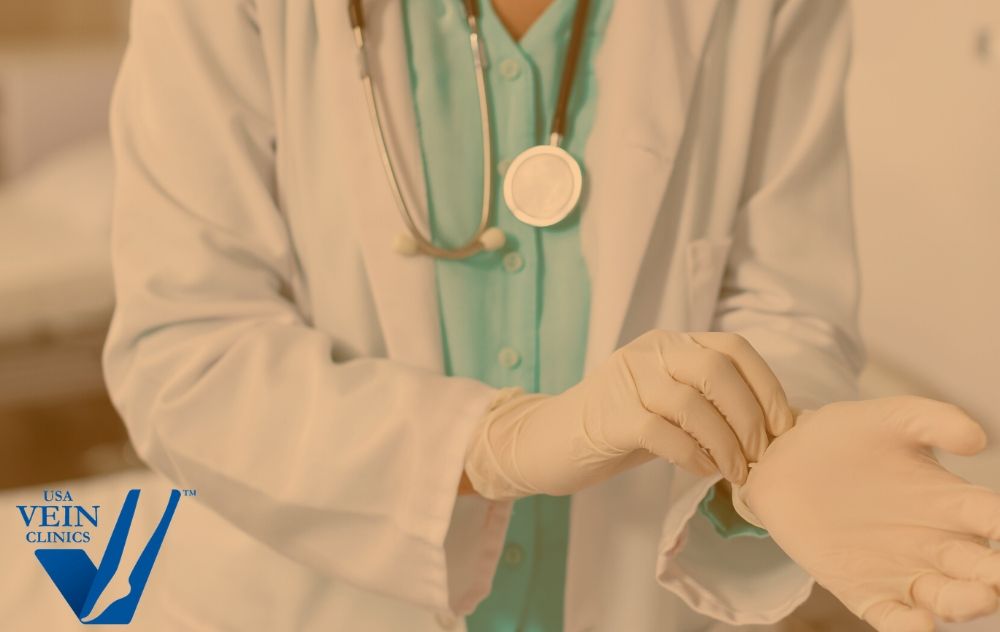 Tuesday, March 17th, 2020
USA Vein Clinics remains committed to being your trusted and reliable medical professionals during this crucial time.
There has recently been a lot of concern surrounding the COVID-19 outbreak. As medical professionals, our patient's health and safety remain our top priorities. We have been closely monitoring this evolving situation and putting precautionary measures in place to ensure the safety of our staff and facility, while keeping our services open and available for the patients in need of continuous treatments.
We are truly committed to the safety and well-being of each of our patients and will make it our due diligence to ensure the absolute safest possible care is delivered.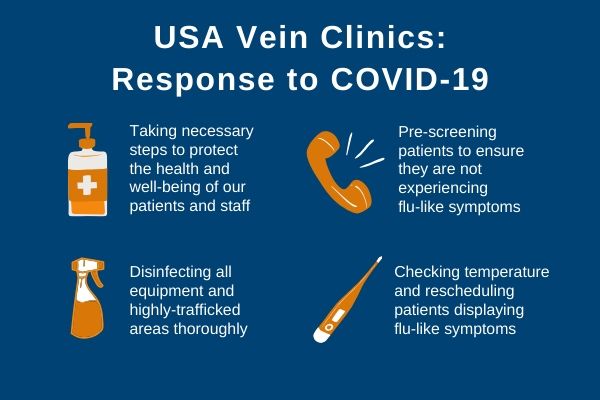 Our Precautionary Measures:
Taking all necessary precautions to protect the health and well-being of our patients and staff
Ensuring medical equipment is cleaned and disinfected thoroughly before, during, and after each patient visit
Pre-screening our patients prior to their appointments
Conducting on-site wellness checkups to verify the health of each patient before treatment
Increasing precautions at our clinics located in areas in state of emergency
Increasing sanitation of high-traffic areas
Emphasizing the importance of employee's personal hygiene
Don't Delay Treatment
While it's important to understand the risks of COVID-19 exposure, we are keeping our services available for our patients as their health and well-being is our top priority. Due to the nature of vein disease and the potential for the condition to become more complicated, we encourage our patients to continue with the treatment plan to avoid developing any serious issues.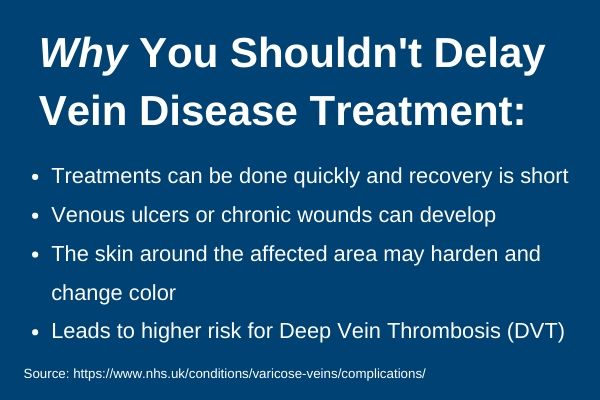 Vein disease often causes unpleasant, painful symptoms like varicose veins. These varicose veins can quickly become a concern if the proper treatment is not administered.
The following factors are known to increase the risk for vein disease complications:
High blood pressure
Smoking
Diabetes
Obesity
These serious complications can include Deep Vein Thrombosis (DVT), Pulmonary Embolism (PE), or Chronic wounds/ulcers. We wouldn't want anyone to put themselves into serious danger by neglecting medically recommended treatment due to fear of COVID-19 exposure.
Online Consultations
With the help of our team of skilled medical professionals, combined with the support from our administrators and technicians, we are prepared to do anything we can to reassure you are safe when receiving treatment from us. That's why we are now offering online consultations. This allows you to discuss your treatment options before you come in for an appointment, minimizing your exposure risk and ensuring you get the treatment you need.
If you have any concerns regarding your treatment, don't hesitate to contact us at 888.768.3467.
Do you want to learn more about vein disease? Sign up for our newsletter or check out some of our other blog articles:
The Difference Between Venous and Arterial Ulcers
Ultimate Guide to Varicose Veins
Raising Awareness of DVT and Vein Disease
Five Common Myths About Varicose Veins