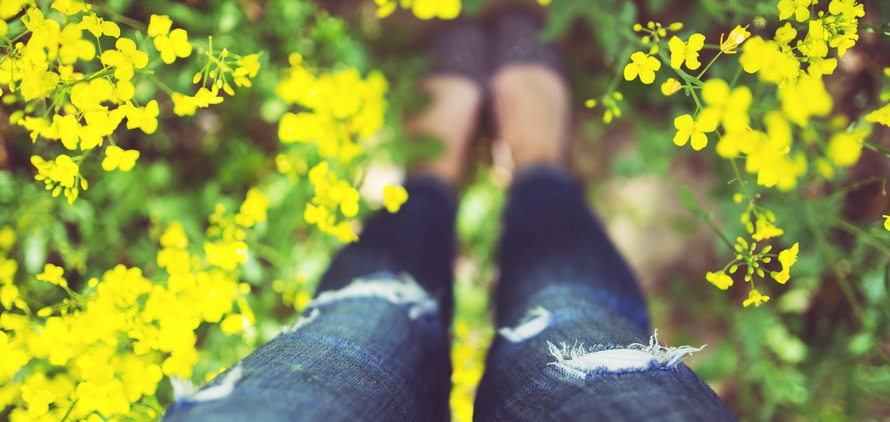 Saturday, March 26th, 2016
Enjoy the feeling of a cheerful and warm spring with lush green environment and vibrant blossoms which will certainly lift up your spirits. The ambiance has a breezy air and it's time to rejuvenate yourself and your body with the arrival of the spring.

Laze around in the snugness of the spring and forget about your sweatpants and down coats. It's time to drop the long pants and in exchange put on the flowy dresses and short skirts for the coming spring weather.
So before venturing out in the open air, prepare yourself physically and mentally to flaunt away your elegant legs. The following tips will certainly help you gain a lot of confidence and will also help you in getting your legs set for a spring outbreak.
Exercise your way out: It is of utmost importance to keep your legs healthy and active and that can be achieved by regular exercising and work-outs. There can be no better way to maintain those tone legs throughout the year than by working rigorously on them on an everyday basis.
Walking, running, riding a bicycle, climbing stairs and swimming are all an interesting form of exercises that aid in working out the legs. Exercise assists in pumping the blood to the different parts of the body and as a result, nourish the cells of the body and the skin cells and make it healthful and strong.
Also make sure to include squats and the lunges, which will assist in the overall muscle toning, as well as adding a nifty shape to the booty!
2. Flake off the legs: During the winter, your hands, feet, and legs tend to get dry, thus creating cracked heels and dead cells. It is very essential to exfoliate the legs properly and scrub away the dead cells and dried up the skin from the surface of the skin.
This not only helps in increasing the blood circulation but also moisturizes the legs and makes them soft and smooth. Nowadays, cleansing options like moisturizing lotions and scrubbers can be easily found in various drugstores and markets.
There are also several methods by which you can make your very own moisturizer, right in your own home. If your legs are kept well hydrated and maintained suitably, then they won't become dry or flaky and also will be able to survive the weather changes which often affects the legs deeply.
3.  Perfect Tanning: There can be no problem if you want your legs to get a bit tanned after months long of staying under the cover of clothes during winter. But what you should keep in mind, is that you should not overdo the tanning process.
Instead of plunging into an entirely darker shade or getting your legs to look darker than the rest of your body, try to experiment with various self-tanners before you make your final choice and add color slowly with time. Self-tan lotions can be found easily in leading market places at an amazing price.
Frustrated with Unsightly Leg Veins? Let the USA Vein Clinics vein doctors help make you feel better.
4.  Shaving Process: There is no harm if you find the shaving process to be a pain, every girl does (at least most do!). Having a bit of fuzz under the several layers is never a problem, but when the clothes come off, those tiny stubbles must also be removed!
It is very important to acquire a high-quality razor and the right shaving cream or gel which is a must to get an extraordinary outcome. The market has seen an overwhelming rise in varied types of razors and shaving creams which are available at reasonable prices.
5.  Toughen up and Tone down: Cellulite is a major issue among most women and happens when the fat builds up between connective tissues. Although you cannot absolutely eradicate cellulite, you can lessen its physical outlook.
Fluid buildup can make cellulite worse, so you can begin by staying away from anything that makes you possess water, such as salty snacks. A good sugar or salt scrub will work well for exfoliating and can be associated with a retinol based skin renewing serum twice a week to assist cellulite stricken regions to appear even more firm.
6.  Eat Healthy Food for the betterment of the legs: Almost everyone is acquainted with the phrase, "eat well to live well" and the term is indeed very true. It is very relevant to maintain healthy skin and in order to that, the correct nutrients, minerals, and proteins should be supplemented to the body, so that the whole body is rejuvenated and energized.
Vitamins A, B3, C, E, and K are the ones required to better skin health. The Mediterranean Diet (which is high in fruits and vegetables, fish, nuts, bread, and olive oil) provides these essential vitamins. With the help of these nutrients and minerals, the bodily activities are functioned out properly.
There really is an elementary and an emphatic way to prepare your legs for the spring season. It needs certain changes in your daily habits, and it depends on being careful with those everyday moments in regards to your overall health.
Winter doesn't have to be a passive season; instead, it can be a season of preparation. It will definitely involve some amount of work, but in the end, the outcome always pays off.
Bare legs moments are just a few moments away! All you need to do is, to ready yourself and feel confident about yourself, because, without self-confidence, you cannot achieve your fashion.
Let the season of spring usher in a lot of vividness and enrich you with warm experiences and everlasting memories and what better way to onset your spring than by flaunting those well-toned and smooth bare legs? It is time to take some pure advantage of the time you have now to get your legs appearing the best in time for the spring season.
Feel Better with Healthy Legs for Spring! Let our vein doctors help, schedule a consultation today.
At USA Vein Clinics, we know treatment and the idea of surgery can be very scary.  Patients are our utmost priority and we stand by our personalized treatment plans.
Call us for a free consultation and get those varicose and spider veins treated professionally.
At USA Vein Clinics, you are in good hands.