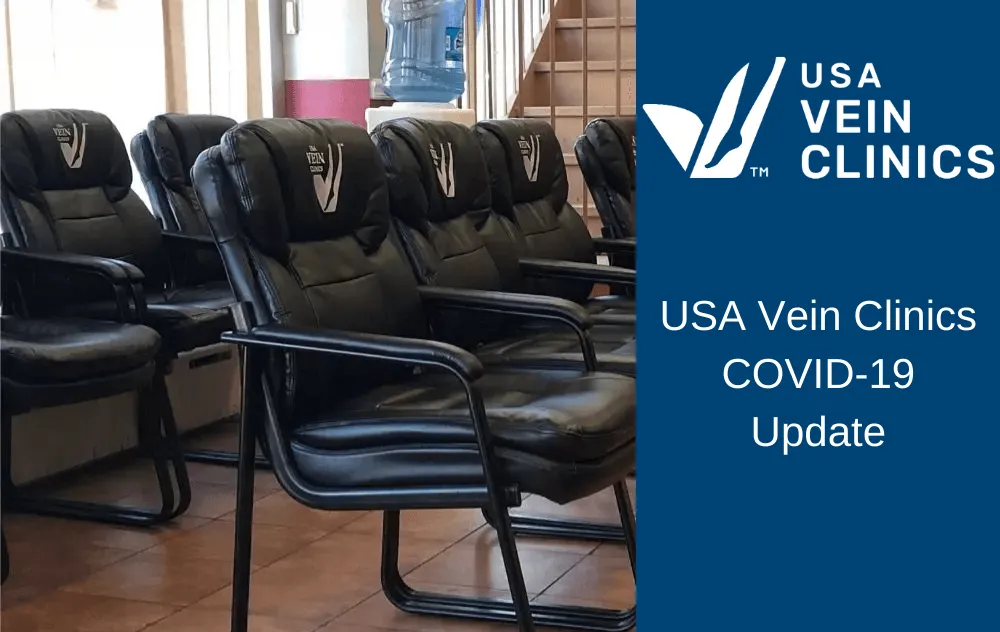 Thursday, April 29th, 2021
The past year has challenged the health and well-being of all of us in many ways. We have experienced everything from early stay-at-home orders and crowded hospitals to detrimental eating habits and sedentary work-from-home situations that continue to this day.
Unfortunately, lifestyle influences like these can impact vein health and lead to vein disease. Nevertheless, many individuals have avoided seeing their doctor, resulting in worsening vein symptoms. Although this is understandable given the circumstances, we want to encourage you to get the help you need as soon as possible.
The good news is that our dedicated healthcare professionals at USA Vein Clinics have kept our doors open through COVID-19. We are considered an essential healthcare provider. We also believe that nobody should suffer from venous symptoms like leg pain, swelling, and fatigue –– especially during a pandemic.
We hope to alleviate any pandemic-related safety concerns by providing additional information about our COVID-19 practices. We follow strict precautionary measures designed to help ensure your health and safety, such as virtual consultations, contactless payment options and pre-visit health screenings.
We Continue to Safeguard the Safety Of Our Patients
In the early days of COVID-19, we prioritized certain patients for essential treatments. When stay-at-home orders were lifted, we quickly got back to what we do best –– treating pain and discomfort due to varicose veins, spider veins, and other venous conditions.
These days, we are back to business as usual and have a range of additional safety measures in place. We are carefully following the recommendations from the Center for Disease Control (CDC) and have implemented strategies that ensure the safety and well-being of our patients while we continue to perform essential vein treatments.
We Offer Virtual Doctor Visits
You may be interested to learn that we now offer telemedicine consultations. These video-based appointments allow you to meet with a leading vein specialist from the comfort and safety of your own home.
Virtual doctor visits provide the opportunity to:
Meet with an expert
Review your medical history
Discuss your symptoms
Ask questions about potential vein treatments
After your initial appointment, your specialist will advise one of the following options:
Monitor your symptoms and the progression of your disease over time
Recommend that you come in for vein treatment
Virtual post-treatment follow-up visits are also available. However, if you experience unusual issues with healing, we will ask you to follow up in person. Your health and safety are our main concern, so when you need to schedule an in-person visit, be assured that our clinics, staff, and equipment are adhering to the most current COVID-19 protocols and guidelines.
To verify your insurance coverage before scheduling a telemedicine appointment, give us a call at 888.768.3467.
We Conduct Health Screenings
If your vein specialist recommends treatment, you will need to come to one of our clinic locations. Upon arrival, please sanitize your hands and be prepared to answer a brief health screening. We will ask about your current health, recent travel history, and whether you have been in close contact with anyone who may have COVID-19.
Depending on your answers, we may determine that you are an "at-risk" patient. If so, we will reschedule your appointment for another convenient time. This will help avoid potential exposure to other patients, doctors, and staff members at our clinics.
Each of our staff members is subject to this same screening process before every shift. They are also advised to follow precautionary measures to limit exposure, maximize social distancing efforts, and practice good hand hygiene. In addition, our staff appropriately sanitizes all medical equipment, exam rooms, registration desks, and high-traffic areas between patients.
We Avoid Crowds
We carefully schedule our appointments to minimize how many patients are in the clinic at any given time. Although you may wish to bring a friend or family member along, we ask that anyone accompanying you waits in the car. This will prevent overcrowding in our waiting areas and help keep everyone involved safe.
When you arrive, you will quickly be shown to your individual treatment room. Most of our treatments take about an hour from start to finish, so you'll soon be on your way.
We Encourage Contactless Transactions
Although we take the sanitation of surfaces in our clinics very seriously, we also offer contactless payment options to avoid potential exposure. For instance, you can use your smartphone to pay for services through Apple Pay, Google Wallet, or Samsung Pay. This helps minimize contact between you and our employees.
We Believe in Vaccines
We want to assure you that the vast majority of our doctors and staff members are now vaccinated against COVID-19. There is also reason to believe that this may protect our patients, too. Increasing scientific evidence shows that fully vaccinated individuals are unlikely to infect others with COVID-19.
We Support Our Community
Since the beginning of COVID-19, we have seen a lot of confusion, illness, and loss. Millions of individuals have fallen sick, hundreds of thousands have died, many have experienced financial devastation, and countless others have mourned the loss of a loved one. During these hard times, we are proud of community members who have stepped forward to support one another.
At USA Vein Clinics, we are committed as healthcare professionals to help people in need. At the beginning of the pandemic, our founders Dr. Flora and Dr. Yan Katsnelson donated the free use of 600 hospital beds to New York City. We also provided meals for ICU staff and first responders, including 50 staff members of the Illinois-based Northshore Glenbrook Hospital ICU.
By supporting our first responders and other community members, we believe we can protect each other and move forward from this devastating time. We continue to look for additional opportunities to help and urge everyone to do their part by:
Wearing masks
Social distancing
Washing hands frequently
Getting vaccinated when eligible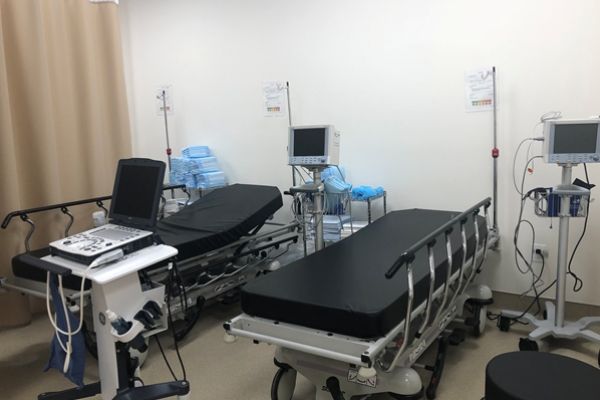 We Collaborate With Other Healthcare Professionals
We provide comprehensive evaluation and evidence-based approaches in the personalized treatment of our patients. We are also committed to partnering with other health providers toward a collaborative goal: improving the quality of life of patients who suffer from vein disease.
Whether you are a patient or healthcare provider, we want you to know that we offer same-day appointments. To schedule:
Call 888.768.3467
Fax referral and patient information to 888.398.8070
We Care About Your Vein Health
Vein disease is a progressive disease, meaning that it gets worse over time. Without treatment, your varicose veins and other vein problems are not just going to disappear on their own. They may also place you at increased risk for developing serious health issues like blood clots and venous ulcers.
Our empathetic team is concerned about how the pandemic is impacting vein health. We believe that it is more important than ever to seek evaluation and treatment. Although you may be tempted to avoid the doctor until this is all over, we recommend scheduling a consultation if you're in pain or experiencing symptoms of vein disease. You can visit our doctors virtually using Telemedicine!
We Are Committed to Our Patients
At USA Vein Clinics, we specialize in treating vein disease, the underlying cause of varicose veins, spider veins, and other venous conditions. Without treatment, vein disease can lead to progressively worsening symptoms like leg pain, swelling, cramping, and fatigue. These can threaten your mobility and overall quality of life.
If you are concerned about your vein health, we urge you to visit one of our experienced vein specialists. After all, this pandemic has given us all enough to worry about already. There's no need to suffer from vein pain and discomfort any longer.
Before your visit, we are available to discuss any additional safety concerns. Please feel free to give us a call at 888.768.3467 or schedule an appointment online. We look forward to meeting you!