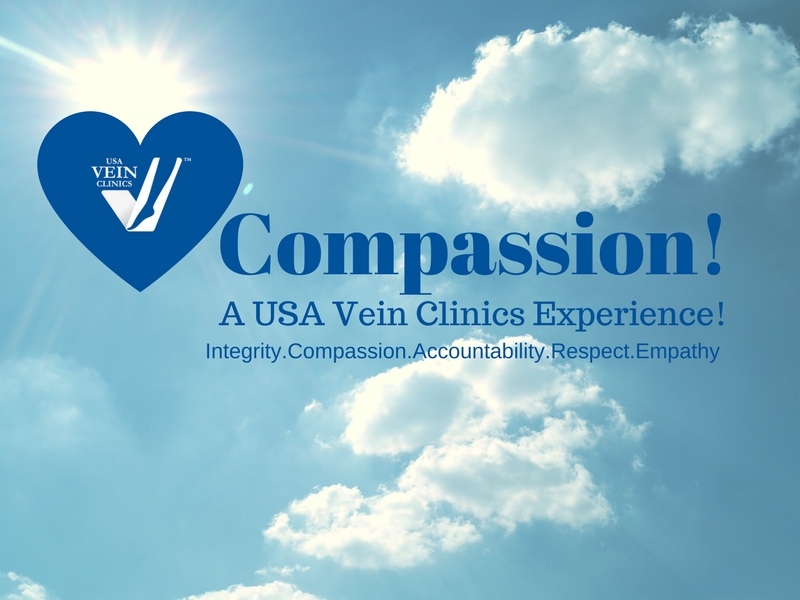 Tuesday, March 28th, 2017
Compassion and empathy are one of the most important elements of a doctor and patient relationship. When patients and their family members come to USA Vein Clinics they are dealing with some type of vein or vascular condition that has affected them for years, some of them have been used to of living in pain and it is an everyday part of their lives. . We understand our patients want to know they are getting the best care, and that is conveyed to them when their doctor is empathetic and compassionate. Studies indicated better patient outcomes for those who felt their doctor treated them with compassion, including improved control of pain and anxiety. Patients who feel they are getting compassionate care have better adherence to prescribed treatment. For us showing compassion to our patients is a very rewarding process as when we see their quality of life improved we feel great and it makes us love what we do. Most of our patient says they feel comfortable with us and that our doctors and their staff treated them with kindness and compassion. We listen to our patients and are very responsive to any questions and concerns they may have. Our compassion is not only limited to our patients but we extend this value to the patient's family members and our own team as well.
If you or a love one are experiencing symptoms of painful varicose veins, leg pain and cramps or restless legs syndrome (RLS) , itching or burning or skin discoloration call (888) 628 9389 to schedule a consultation with our dedicated vascular specialists to be a part of USA Vein Clinics experience as we will treat you the way we would like to be treated!
All treatments at USA Vein Clinics are covered by Medicare and most insurance plans.